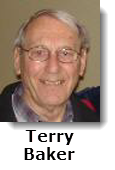 Terry Baker, co-founder of the NetLetter scours the internet for aviation related Trivia and Travel Tips for you, our readers, to peruse.
Did you know that?
To celebrate the Royal Wedding in May of Harry and Meghan, the entire cabin crew on Flight BA93 to Toronto were named either Harry or Meghan/Megan.
(Source: UK Pionairs newsletter September 2018)
Ways to Cruise When You're Totally Broke
Learn how to hunt for deals.
If the best cruise deals were easy to find, everyone would snatch them up. Dedicate a little extra time and effort to sign up for e-newsletters and search for cruises where you'd least expect them.


Sail close to home.
Cheap cruises prevail in the Caribbean, Bahamas and Mexican Riviera, accessible from U.S. home ports.


Look at budget-friendly cruise lines.
Carnival Cruise Line, Norwegian Cruise Line and Royal Caribbean are the most popular mainstream cruise lines for a reason. They offer the widest variety of affordable cruise options and dominate the Caribbean and Bahamas.


Go during peak hurricane season.
No, we're not crazy. Peak hurricane season, which runs from mid-August to late October, is one of the cheapest times of the year to cruise the Caribbean, Bahamas and Mexican Riviera -- especially September.


Don't bet on seven days.
It is possible to snag a good deal on a week long cruise, but in most cases, you'll find that short cruises (three- to five-night itineraries) are the bigger money savers.


Book an inside cabin.
Inside cabins are ideal for cruisers on a tight budget. They're the lowest and most affordable category you can book.


Eat only in free dining venues.
Most cruise ships feature a main dining room (sometimes multiple dining rooms), buffet and a few casual eateries -- all in which you can eat for free.


Fill up on free drinks.
Free drinks are one of many ways you can save on booze at sea. Find out if your cruise line hosts a captain's cocktail party. On certain lines, servers at these celebratory soirees will make the rounds with trays of complimentary wine or Champagne. Art auctions also serve free drinks, even if you're only there to look.
(Source: cruisecritic.com August 29, 2018)