Singapore Airlines Receives World's First Airbus A350-900ULR.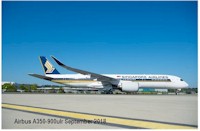 It is the first of seven A350-900ULRs on firm order and entered service on October 11, 2018 to operate the world's longest commercial flight between Singapore and Newark Liberty International Airport.
Singapore Airlines is the launch customer for the new A350-900ULR, which is capable of flying up to 9,700 nautical miles (nm), or over 20 hours non-stop. With the delivery of the first A350-900ULR, Singapore Airlines now has (22) A350-900 aircraft in its fleet, with 45 more on order including the six additional ULR variants.
(Source: gtp.gr, September 28, 2018)