Shirlee Schacter has sent us this information and photos -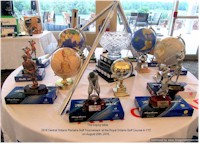 The 2018 Central Ontario Pionairs Golf Tournament and Dinner took place at the top-notch Royal Ontario Golf Course in YYZ on August 20, 2018, and it turned out to be a made-to-order weather day for golfers!
Seventy-six golfers played a Scramble format, enjoying the scenery and vistas around the links - some of which offered very good challenges. The ever-popular Putting Contest was also a feature of the day. This course is fast becoming a favourite among the District golf enthusiasts.
Back at the clubhouse, the day culminated with a sumptuous buffet - including roast strip loin and all the trimmings. Central Ontario Director, David McNeilly along with Valdy Prieditis the Tournament Organizer presented trophies and prizes to the major winners. Golfers were invited to the prize tables where a wide variety of booty awaited them.
The special draw tickets for great merchandise as well as cash also made for several happy winners!

We have these photos -