Neil Burton has sent us this information regarding the de Havilland Moth aircraft.
Although the photo of the aircraft seems to have the registration G-CAUN, we questioned this with Neil and he responded -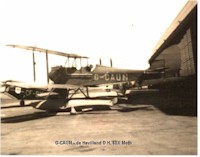 The photo was always presented to me by "Curly" Nairn as being G–CAUM. In response to your query, the aircraft with registration G-CAUN was damaged by fire in 1928 at Weston, Ontario.
(Source: Canadian Aircraft Register 1920-28 by John R. Ellis.)
"Curly" Nairn, even though losing his memory, greatly enhanced my knowledge of aviation in B.C.
It was too bad I didn't meet him until after my career with PWA, CAIL and Time Air.