To show some different TCA documents, we have these copies from the personal collection of Gklavas Athanasios which he started some 40 years ago.
(Source: airticketshistory.com)
A TCA-1 "Passenger Receipt" issued July 16, 1946.
The reverse side was Halifax.
The fare was $13.85 plus $2.10 tax.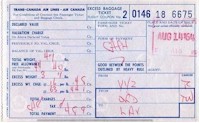 An Excess baggage ticket issued August 14, 1964 from YYZ-ORD-LAX.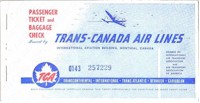 This was a ticket issued on March 16, 1952 for a trip From Halifax to Montreal to Toronto to Winnipeg.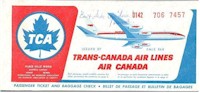 This passenger ticket was issued May 20, 1964 for a trip from New York to Toronto to Calgary.
---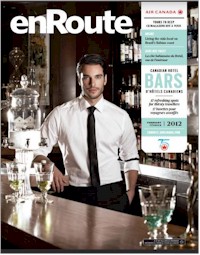 Here is the cover of the enRoute magazine issued February 2012.
The Sara B. bar in Intercontinental Montreal, photographed by Gabor Jurina, pair's absinthe with a tall drink of water.
---

Extracted from "Horizons" magazine.
Issue dated April 1984
In NetLetter #1399, we had an article on Sudbury station, below is a link to the memories of Norman Howard whose first day at work also fell on the same day, February 1, 1954.
In fact, he opened the door of the first DC-3 to serve Sudbury.

Reflections of Another Day by Norman Howard.
---
45 Years of Service.
April 1, 1939 marked the official beginning of passenger service on Trans-Canada Air Lines in and out of Edmonton.
TCA newspaper advertisements told of the Lockheed l4-H aircraft, "the most modern high-speed, twin-engine commercial aircraft in the world" which would whisk passengers from Edmonton to Vancouver in only five and a half hours at a cost of $18.70 return. Edmonton to Montreal flights would take a mere 14 hours and 15 minutes.
We've come a long way since those fledgling days. Air Canada's investment in Edmonton is currently $15 million covering fuel, taxes, landing fees, supplies and a payroll of 395 employees. Not bad considering the entire Edmonton staff of TCA in April 1939 numbered half a dozen.
---
Fleet update 1984.
Air Canada has completed three transactions involving eight aircraft that could mean a $23 million contribution to revenue.
Federal Express of Memphis is buying two ten-year-old B-727s while four DC-8-54 freighters will be taken over by United Air Leasing of Tulsa.

As well, two L-1011's will be leased to Gulf Air, the national carrier for the Persian Gulf states of Bahrain, Qatar, Oman and the United Arab Emirates. Gulf Air will lease the aircraft for three years with an option on another two years.
Delivery is set for June. The company fleet will consist of 122 aircraft following departure of the eight airplanes.
---
No one has Fond Memories of Her.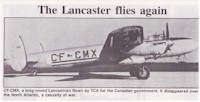 The Lancastrian was a bumpy, noisy bomber with a nose job and a limited life span, designed to bridge the gap between military transport and the newly evolving trans-oceanic airliners. Trans-Canada Air Lines had ten of them through 1947 when they were finally phased out by the North Star.
Our photo is of CF-CMX, which disappeared over the North Atlantic.
(Note: Our records indicate that it was CF-CMU not CF-CMX which was lost over the Atlantic December 30, 1944 – eds)
The first one was an Avro Lancaster, built in Britain and given a facelift to get it into service in a hurry.
The other nine were built in Canada at Victory Aircraft in Malton. This company is now part of McDonnell Douglas, for where it manufactured ten of them through 1947 when they were finally phased out by the North Star. Although most have retired, there are people still on staff who flew and maintained these aircraft.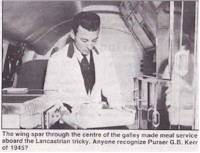 No one will recall much about the CF-CMX, one of a fleet of ten. After all, 40 years is a long time to remember an earache crawling over a wing space while balancing hot meals during unexpected turbulence, or even something as simple as walking uphill as soon as you entered the airplane.
Our photo shows purser G.B. Kerr serving a meal service aboard a Lancaster.

Click the icon at left for more information regarding Lancaster aircraft flown by TCA.
---
Issue dated March 1984.
Air Canada crews to fly Lancaster.
Only one Lancaster of the some 4,000 that were built still flies. Every year on Battle of Britain Sunday, it thunders through the skies of the United Kingdom as part of the RAF Battle of Britain Commemorative Flight.
Soon a second will take to the air in Canada, flown exclusively by Air Canada volunteers. The company has had a quiet and major role in reviving the retired warrior since it was rescued from a concrete pylon by the Canadian War-plane Heritage in Hamilton.
A few people on staff still remember the days when TCA started the first Canadian Transatlantic air service using the Lancaster to fly mail and VIPs during World War II.
Later the modified Lancastrian became a member of our fleet until the advent of the North Stars. The expertise in airframe and experience with the Merlin engines still exist and Air Canada's technical centre at Dorval and the maintenance facility at Toronto are being used in the Lancaster rehabilitation program.
This year, Air Canada flight crews will complete the project, returning the aircraft to the air.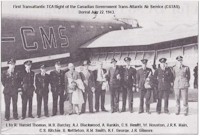 A Lancaster flown by TCA, CF-CMS was the first four engine commercial aircraft to get a civil registration in Canada. Our photo (left) shows the crew on the first North Atlantic flight from Dorval to Prestwick via Reykjavik. It initiated a four engine era both across the continent and across the Atlantic that lasted until the advent of the tri-motor wide bodies, almost forty years later.
Captain Bernard (Bernie) Brennan, a Toronto-based L-1011 Captain, has been named Operations Chief of the Lancaster project by the Canadian Warplane Heritage. "Captain Brennan and several other Air Canada flight and ground personnel have recently joined the Heritage," says Phil Nelson, CWH Curator, "and we are delighted to have the Air Canada crews exclusively on the Lancaster.
They are a welcome addition to our growing pool of aeronautical expertise." As Operations Chief, Captain Brennan is already screening crew members, putting together an operations manual from historical records, overseeing the compiling of a maintenance manual from commercial, military and personal archives, and negotiating to have the old Lanc's flight characteristics entered into a computer that will make flight planning as accurate for the old bird as it is for the L1011's.
Captain Brennan joined TCA in 1956 and has time on DC-3's, North Stars, Viscounts, DC-8's, DC-9's and currently L1011's.
---
From the "Parts & Pieces" magazine issue January - March 1995.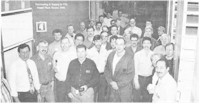 Looking for a co-worker in the Purchasing & Supply in YUL Power Plant Stores.
John Thompson joined Trans-Canada Air Lines on January 2lst, 1961, first positioned as a junior Storeman Level 1 at hanger #1 with a salary of $49.00 per week. John has worked in most areas of Dorval Stores including Commissary, Main Stores and now Power Plant as a lead since January 31 1986.
He has a keen interest in Loto 6/49 and has been busy attempting to work out a formula to better his chances of winning his dream prize.
(We wonder if John was successful with the 6/49 - we would like the system if he was - eds)
The numbers will line up with this photo -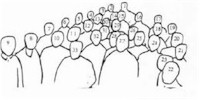 (1) Robert "Bee Bob" Gagnon, (2) Frangois Lussier, (3) Denis Parent, (4) Jean Guy Lessard, (5) Fred Montreuil, (6) Anthony Cortez, (7) Stan Sumsion, (8) Gilles Bussieres, (9) Mike Delaney, (10) Gary Tallis, (11) Denis Hebert,(l2) Gary Kirbyson, (13 ) Ron Lepalme, (14) Candy Torregrossa, (15) Jim Biggs, (16) Barry Tremblay, (l7) John Paterson, (18) Jim Devlin, (19) Mike Legault, (20) John Glass, (21) Ian Tyer, (22) Diane Drury, (24) Ron Leburn, (25) Ken Bourque, (26) Mona Duquette, (27) Jean Martin, (28) Paul Murphy, (29)Tony Morin, (30) Chris MacKay-Murray, (31) Hans Glaser, (32) Gilles Palmieri and last but not least, (33) John Thompson.