In NetLetter # 1409 under "Coming Events - Women in Aviation", we gave information regarding the "The Sky's No Limits - Girls Fly Too", we have received this update -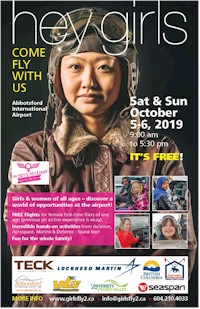 Vancouver, British Columbia, February 24, 2019,
It is with deep regret that due to unforeseen circumstances outside of our control we must postpone "The Sky's No Limit – Girls Fly Too!" 2019 event until after the BC wildfire season.
Despite heroic efforts on the part of many, we were unable to secure replacement resources in time to meet the planned dates of March 9 – 10, 2019.
The good news is that the new date coincides with the week of International Day of the Girl, a Canadian-driven UN observance, on October 5 – 6, 2019.