Nancy's legacy.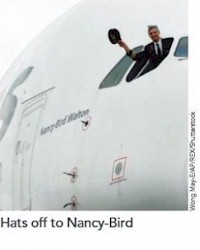 The decision to name Western Sydney's new airport, due to open in 2026, after the late pioneering aviator Nancy-Bird Walton, (Qantas Airbus A380 VH-OQA also bears her name), should do no harm to the aviation industry's efforts to get more women into the cockpit.
This is a cause close to the heart of Qantas boss Alan Joyce, who, under the aptly named Nancy-Bird Walton initiative, has committed to a goal of at least 50 per cent women in its pilot cadet intake in a decade's time.

(Source: Flight International March 12, 2019)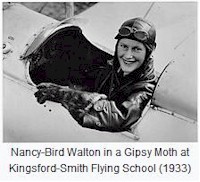 Born in Kew, New South Wales, Australia on October 16, 1915 as Nancy Bird, she wanted to fly almost as soon as she could walk. As a teenager during the Depression in Australia, Nancy Bird found herself in the same position as many other children of the time, leaving school at 13 to assist her family.
In 1933, at the age of 18, her passion drove her to take flying lessons. Sir Charles Kingsford Smith, who was the first man to fly across the mid-Pacific, had just opened a pilots' school near Sydney, and she was among his first pupils. Most women who learned to fly did so for recreation, but Nancy planned to fly for a living.

(Source: wikipedia.org)