D-Day Squadron Finalizes Plans.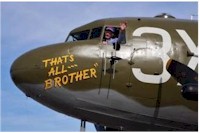 Possibly the largest flotilla of C-47's and other DC-3 variants since the Second World War will cross the Atlantic in late May to take part in a re-enactment of the first stage of the D-Day invasion.
A total of 18 "Daks" will fly to Scotland for the 75th anniversary of the most pivotal battle of the war. The 18 U.S.-based aircraft will be joined by 17 European aircraft for the flypast, which will include parachute jumps by reenactors using round canopies.
Many of the aircraft took part in the original raid, including "That's All Brother", the plane that led the assault and was the first one over the beaches. The aircraft, which flew at Sun 'n Fun, was rescued from a scrap heap and refurbished by the Commemorative Air Force over the past three years.

(Source: avweb.com April 6, 2019)
Additional reference: ddaysquadron.org