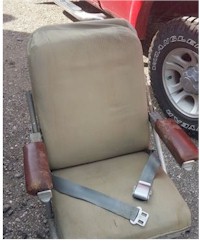 As you can see in the photo, the control wheels were in rough shape, mostly from day to day use while the aircraft they were attached to was in service.
Over the past week I was able to refurbish the First Officer's control wheel to better condition. The Pilot's control wheel will take a fair bit more of an effort to refurbish as it will need some work to bring it back to better shape.
While going through the refurbishing process, I noted the Auto-Pilot disengage buttons were in different locations. The Pilot's disengage button was located on the left control grip, while the First Officer's disengage button was located on the right control grip. With knowing the location of these buttons, I was able to determine I had a proper set of left and right wheels.
The metal framework on the Captain's chair I discovered was still in very good shape, other than some normal wear and tear. The fabric was also in very good shape for its age. While sitting in it for a moment, I found it still rather comfortable. Basically all the chair will need is a good hoovering along with some cleaning and painting of the metal parts. Unfortunately there was no slider-base included (which is a rare find at best). The slider base I already use at home as part of my Vanguard chair, is actually a slider base from a Viscount.