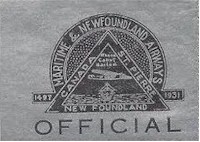 Reprinted from Flight Magazine - March 13, 1931
Newfoundland's latest notable addition to the air stamps of the Empire comes in the form of a set of three permanent air mail values for use in connection with the regular service about to be put in operation between St. John's and northern part of the island during the winter months by Newfoundland Airways, holders of the Government contract.
These striking vignettes have been engraved and printed in London by the firm of John Dickinson and Co., after designs suggested by Mr. A. B. Perlin, a local aero-philatelist, and were first put on sale on January 6, 1931.
The 15 cents, printed in sepia with a picture of a winter scene in a Newfoundland forest, a postal courier with his dog-team and sledge and an aeroplane passing overhead, represents the local air mail fee, whilst the 50 cents green, depicts the transportation of mail by sea and air. In the foreground is seen an old-time sailing ship with mail from England entering the Narrows of St. John's harbour, together with Sir John Alcock's Vickers-Vimy aeroplane taking off with the first transatlantic air mail in June, 1919.
This value is intended for letters dispatched by air to Canada and the U.S.A. The third stamp, $1 blue, will be reserved for future transatlantic mail flights. It shows, appropriately enough, a map indicating the routes followed by historic transatlantic flights, commencing with Hawker's ill-starred attempt and ending with Kingsford-Smith's flight from Ireland to Harbour Grace last year.