Gerald Archambeau submits a vintage picture from his life and career -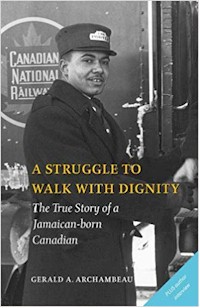 I started with AC in 1967, and have seen many changes in Canadian passenger travel. I have worked for Canada's two great railways, which gave me the opportunity to meet and greet Canadians from coast to coast.
I started as a Station Attendant and went on to become a Lead. I have been retired since 1993, and happily married to my dear wife Marion for 40 years. I have also written two books on my immigrant life to Canada from British Jamaica.
Life is good; as I have nothing to complain about in a country that helped me survive a tough world. I have been fortunate to have become a successful author in my 27 retirement years, with my last book in the works with Austin Macauley in the UK.
It has been a great ride in our great country for 73 years. All the best to the "Pionairs & The Net-Letter".
Gerald A. Archambeau, author.
Click the image above for more information on Mr. Archambeau's book "A Struggle to Walk with Dignity".