History of this aircraft -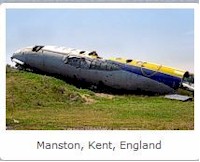 May 1, 1955 - Departed for delivery to Trans-Canada Air Lines (TCA), with fleet number '607'.
It was flown to Canada by Gabe Robb 'Jock' Bryce accompanied by his wife Nancy. She was born at Ocean Falls, British Columbia, Canada and became the first female to fly across the North Atlantic in a turboprop aircraft.
November 1, 1955 - First Viscount on the Dorval (YUL) to Vancouver (YVR) route (with several stops).
It was withdrawn from service on January 6, 1963 total time 17,994 hours, 14,743 landings and was sold to William C. Wold and Associates, New York on March 2, 1964, who sold it to Air Inter, France on April 2, 1964, who sold it on to Alidair October 24, 1975 and registered G-BDRC.
Alidair leased the aircraft to various airlines until January 4, 1984 when it was sold to Hards Travel for operation by Janus Airways and named "Sarnia II", but never entered service due to severe corrosion.
Withdrawn from service and donated by Hards Travel to the Central Training Fire Service Establishment of the Royal Air Force at Manston Airport, Kent, England in November 1984.
Fuselage noted minus its wings and in poor condition in March 1991. Emergency access training use had hacked out a large section on the port side of the fuselage.
Remains sold to Hanningfield Metals for metal salvage in August 1993 and broken up into sections and taken away to their yard at Templewood Industrial Estate, Stock Road, West Hanningfield, Essex for final processing.
(Source: vickersviscount.net)