Sharon Gray sends these details of a book which may be of interest -
Flight: Stories of Canadian Aviation, Vol. 1. By Deana J. Driver and Contributors.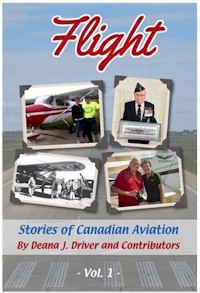 Wartime bombings, engine failures, a rudimentary air traffic control tower, and flights with the Canadian Forces Snowbirds aerobatics team are among the engaging true stories in this fascinating first book of the Flight series.
In their own words or with the help of author Deana Driver or other Prairie writers, Western Canadian pilots and aviation enthusiasts share stories of adventure, assistance, humour, tragedy, and success in this salute to the Canadian aviation industry and its people.
The people whose stories are told in Flight Vol. 1 include Second World War fighter pilots and bomber pilots, a pioneer smokejumper, flight instructors, Snowbirds aerobatic team members, private and commercial pilots, a flight attendant, and aircraft passengers.