Captain Beverly Lynn Burns is the first woman to captain the Boeing 747 jumbo jet. On the afternoon of July 18, 1984, Burns made her maiden voyage as captain when she commanded People Express aircraft 604 from Newark International Airport to Los Angeles International Airport.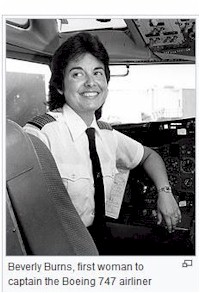 By the time she retired, in February 2008, she had been a captain with the airlines for twenty-seven years and amassed over twenty-five thousand hours of flight time.
While with People Express she captained the Boeing 727, Boeing 737 and Boeing 747. Between 1987, when the company merged with Continental Airlines, and 2000, she added the DC-9, DC-10, Boeing 757 and Boeing 767 to the list of jetliners she had captained.
Then, in May 2001, Burns became captain on one of the most technologically sophisticated airliners of its time, the Boeing 777.
(Source: wikipedia.org)