December 1, 1913 -
Lyubov Golanchikova becomes the first female test pilot.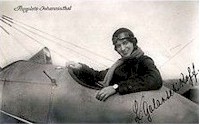 Lyubov Golanchikova (1889–1959) was the third woman of the Russian Empire to receive a pilot's license. She was probably born in what is now Estonia.
She was the first female test pilot, testing airplanes for Anthony Fokker, the French aircraft firm Morane-Saulnier, and the Russian airplane manufacturer Fedor Tereshchenko.
During World War 1, she flew missions for the Red Cross and during the civil war, may have flown observation missions for the Red Army. In 1923, she moved to the United States and made several attempts to be the first woman to make a transatlantic fight, though none ever came to fruition.
After 1930, she quit flying and worked in various positions, including as a taxi driver.