Issue dated September 2015 (with permission).
Attending a Women in Aviation International (WAI) conference during 2015 allows you to hear fascinating stories from special guest speakers – such as a 90-year-old grandmother who got her pilot's licence at age 60; the woman survivor of a military aircraft crash in the Arctic; a female astronaut who served on the International Space Station; the first female CF-18 pilot; the first female Snowbird pilot and many others.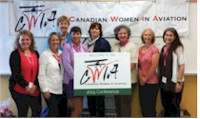 At this year's Canadian Chapter of WAI conference, the attendees were, from left to right:
First Officer Kim Winsor, Captain Suzanne Pettigrew, Captain Rosella Bjornson, Captain Judy Cameron, Flight Dispatcher Denise Egglestone, Manager Process Improvement, Donna Volpini, First Officer Lisa Graham and First Officer Heather Jennings.