2016 - June -
Commencement of service between Vancouver and Brisbane, Australia with Boeing 787-8 equipment.
---
Humanitarian Relief for Haiti.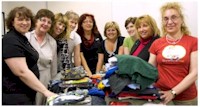 Under the leadership of Air Canada's Executive Vice President and Chief Operating Officer, Duncan Dee, our employees moved quickly and effectively to provide aid to the people of Haiti following the devastating 2010 earthquake.
Air Canada undertook six relief flights to the quake zone, the first mission taking place just four days after the initial earthquake. We transported 183,650 kilograms of relief supplies, evacuated 777 Canadians, and provided transport and medical support for the evacuation of 89 Haitian adoptees.
In May 2010 Air Canada employees helped clothe more than 1000 children in three orphanages in Haiti.
(Source: Citizens of the World 2011 edition)
---
Continuing the Time Travel: 75 Years in Events. Started in NetLetter #1419.
1965 - Covered Passenger Walkways
Staying toasty: Air Canada is the first airline to install covered passenger walkways linking terminals and aircraft in 1965.
(Source: moments.aircanada.com/timeline)
Editor's note: Ken Pickford advises that the covered walkway concept actually dates back to the late 1950's.
Much more on that subject in this interesting article:
www.airporthistory.org/boarding-bridge-1.html
An excellent website for anyone interested in airport history. Includes many rare photos not found elsewhere. The founder of that Montreal-based site is a Dutch chap who was an airports expert for IATA until fairly recently. His site has several articles on Canadian airport history. It's worth subscribing to his updates.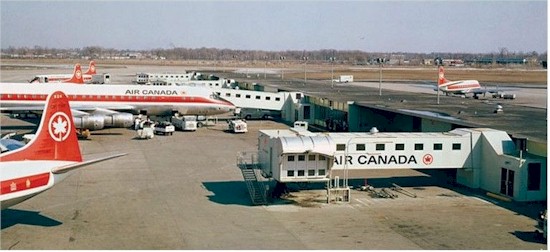 ---

Issue dated April 1990.
When we talk of Customer Care, we have a tendency to think of smiling Flight Attendants, eager Customer Sales & Service Agents, and others who deal directly with the flying public.
However, there are groups of employees who support these front-line people in their Customer Care efforts.
They may not make it in a video or a commercial but they are no less important. One such group is the team of 24 employees in Printing Services who are dedicated to excellence every day.
They print a lot of the paper items we use on a regular basis, from ACF forms to all manuals and even aeronautical charts. In fact, in 1989, they produced 73 million impressions, not including plates, microfilm, duplicates, etc.
The Printing Services team is made up of (from left to right, starting with back row):
Alain Dakin, Dan Sergent, Andy Bertram, Gord Bonner, Carry Lennon, Mervin Hernandez, Alain Moreau, Irene Boland, Kevin Horan, Kathy Glaser, Glen Trotter, Ralf Beffert, Bruce Bowman, Josie Farkas, Corrie Wesselius, Brenda Bartram, Vic Roberts, Frank Stosiak, Angie Stevens, Rena Brunelle, Don Lowe and Monique Stonehouse.
Missing from the photo are Frank Butler and Ted Thurston.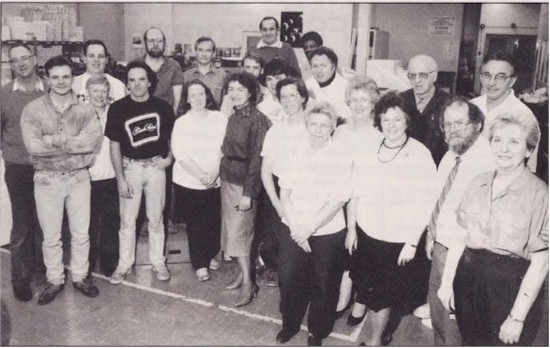 ---
Farewell from North Bay.
It was an emotional evening for North Bay staff who got together to bid each other farewell when the station closed in February, 1990.
Four employees retired and the rest transferred to other stations across the system - Saint John, Fredericton, Halifax. Ottawa and Charlottetown.
In the photo are: (standing, back row, left to right):
Station Attendants Andy Walsh, Ted Ewles and Bob Cleroux; Certificated Station Agents Dave Wood, Art Walsh and Garry McGuire; Station Attendant Henry Cleroux.
Seated in front are (left to right):
Certificated Station Agents Fern Langlois and Merl McAndrew; Marg Moody, Administrative Support; George Ralph, Station Attendant; Joe Gatti, Manager, North Bay and Bob Dufresne, Acting Certificated Station Agent.
Missing from the photo are: Edna Scott, Helene and Pentti Haanpaa, Len Greeraner and Ken Gibson.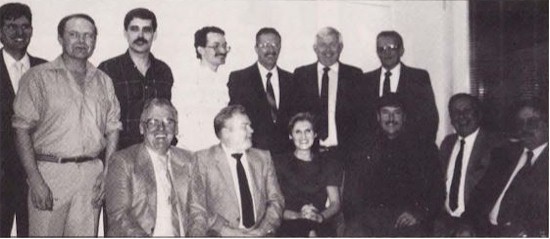 ---
G'day from Thunder Bay.
If you are one of those who thinks that Air Canada no longer served Thunder Bay in 1990 - you 're mistaken. Although we no longer fly to the Ontario cities of Timmins. Sudbury, North Bay and Windsor, we continue to serve Thunder Bay; so let's introduce some of our staff.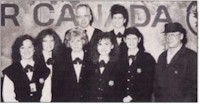 At the check-in counter are (left to right):
Customer Sales and Service Agents Brenda Lamoureux, Victoria Farrow, Lolly Morgan, Byron Halliday, Sandie Coates, Lucy Valente, Lorraine Lepage and Lead Station Attendant Morgan Brown.
---
A Global anniversary.
January 15, 1990 was an important milestone in Air Canada's history, as it marked the fifth anniversary of our global service to Bombay and Singapore.
Getting ready to slice into the anniversary cake and welcome the passengers to Singapore are, from left to right:
Andy Narayan, Selene Lam, Margaret Leow, Tony Lee (behind Margaret), Daisy Kuek, Sanda Kumary, Linda Chee (behind Sanda), Rick St. Maurice, May Faridah, Serene Law, Judy Chak (behind Serene), Elinda Gan and April Tan.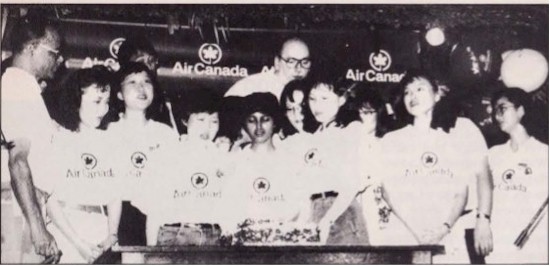 ---
Issue dated June 1990.
The Caribbean Load Office, affectionately known as 'Barbados Load', was opened on December 1, 1986 to provide weight and balance coverage for all flights operating into Bermuda, Nassau, Freeport, Kingston, Montego Bay, Port of Spain, St. Lucia and of course Barbados.
Antigua was added in the spring of 1987 and Martinique and Guadeloupe came on stream during the summer of 1987. Governor's Harbour in the Bahamas was added late in 1989.
In our photo we have:
Barbados District Manager John Buchanan is shown (top left) with Caribbean Load Office staff. They are (clockwise): Tessa Mason, David Edwards, Robert Roach, John White and Ken White.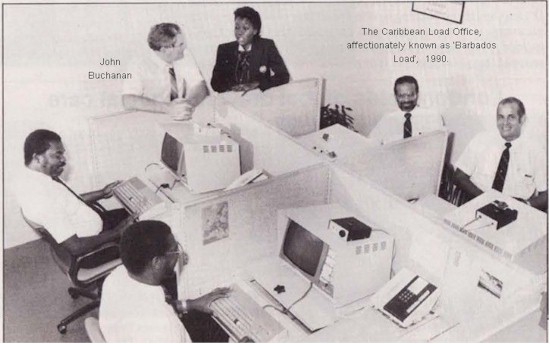 ---
Chicago's load office skilled at balance.
Many travellers think that baggage, mail and cargo are loaded into an aircraft in much the same fashion as one packs a suitcase; heaped 'helter-skelter' until the ground crew leans on the door to click it shut. But a visit to our new state-of-the-art US Load Services office in the Chicago suburb of Schiller Park is enough to banish that idea.
In our photo, Load employees are: (standing, left to right) Marlene Souffrant, Secretary; Joanne Jamison, Certified Load Agent; Pat Moore, Manager, Load Services and Certified Load Agents Beverly Sands and Penelope Sokolowski.
And seated (same order) are: Robert Greene, Certified Load Agent; Michael Kelpsch, Lead Certified Load Agent; Astrid Samachson, Certified Load Agent and Tom Markley, Lead Certified Load Agent.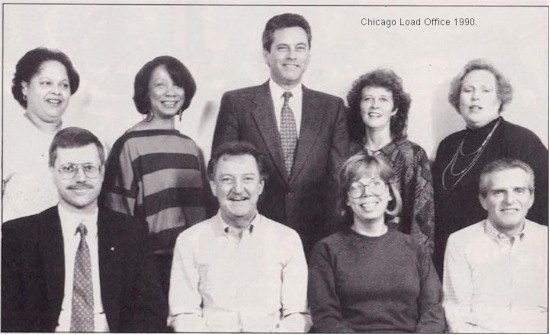 ---
In-Flight Service earns award.
Air Canada has been named the runner-up in an international airline competition for outstanding in-flight service, conducted by Onboard Services, a leading passenger service trade magazine.
This competition, then in its fourth year, recognizes outstanding and innovative in-flight service offered during the past 12 months. At the 1990 annual gathering of the In-Flight Food Services Association in Las Vegas, we were awarded the certificate of commendation for a second place finish in the 'overall' category - just behind British Airways, which took top prize for its new First Class service.
An article in the then current issue of Onboard Services praises Air Canada's Business Class service that included the new 'flex meal' - a cold lobster plate that a passenger can order at any time during a long-haul or international flight.
"Air Canada has made a long-term commitment to providing outstanding customer service in the air and on the ground and this prestigious award demonstrates that our employees' hard work is paying off," says President Pierre J. Jeanniot.
The award was presented to Bernie Miller, Vice President, In-Flight Service in Las Vegas by Jim O'Neil of Onboard Services magazine. As with any product presented on our flights, there is much behind the scenes preparation that goes into it. Featured here are some of the key In-Flight Service employees involved in the development of the Executive Class service introduced on the domestic and trans-Atlantic routes last February, 1990.
In the photo, sitting are: Ted D'Arcy, Director, Catering Cabin Environment (left) and Bernard Claudel, Manager, Dining Services.
Standing from left to right: John Lowe, Area Commissary & Catering Manager, Canada; Pierre Belleau, Communication & Procedures Supervisor; Valiery Holland, Procedures & Stowages Specialist; Tony Magalhaes, A/Commissary & Catering Equipment Control Supervisor; Ginette Morel, Area Commissary & Catering Manager, System; Art Ainscow, A/Manager, Commissary & Catering Operations; Pierre Bourbonnière, Product Support Manager; Guylaine Lavoie, Supervisor, Catering Development; Norm Klemm, Manager, Product Support & Communication; Gabrielle Dumas; Procedures & Stowages Specialist, and Fernando Giner, Procedures & Stowages Manager.
---
Issue dated August 1990.
The ultra Western U.S. -
Every year, 45 million people pass through Los Angeles International Airport.
Since less than one per cent of them are carried by Air Canada the airline cannot claim high visibility. However, Jim Gould, General Manager, Western U.S. is convinced that care is the key to a higher presence in California and across the system.
In a joint meeting with the Los Angeles and San Francisco steering committees, composed of airport customer service agents, the Airport Managers and the District/General Managers, the notion of care was discussed in depth.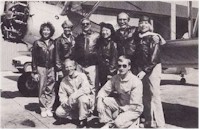 Rather than concentrate solely on prizes and awards for great moments of care, Los Angeles created the Royal Air Canada Pursuit Squadron - sort of a Hall of Fame for still active players. So rare it is composed of five employees and 11 customer members from major accounts. All nominations come from peers.

Above we have this photo of the founding members.
This photo is of Bill McGee, the newest member of the Royal Air Canada Pursuit Squadron, getting ready for his inaugural flight.
Editor's note: Does anyone know if the squadron still exists and are there any more stories to share?
---
Issue dated October 1990.
Twins have identical careers.
Although they no longer share the same last name there is little else that sets Deanne McGowan and Denise Wills apart.
For not only are they identical twins, Deanne (left) and Denise are both Toronto-based Flight Attendants and this has led to some amusing and confusing incidents with passengers and fellow crew members.
But, as one colleague notes in a little poem:

"It's hard to know the difference,

'Cause mostly they're the same

Their charm, their wit, their karma

'Super-duper' is their middle name".
---
Greetings from Zagreb.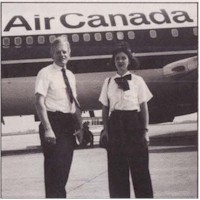 On hand to welcome our passengers to Zagreb are Klaus Berg, Manager, Yugoslavia and Passenger Agent Gordana Mirjanic.
---
In the "Horizons" magazine issue dated September 1991, we found this article -
His memory lives on.
For the first time in Air Canada's history, an aircraft has been dedicated to the memory of an employee.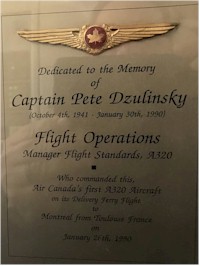 Captain Pete Dzulinsky, who died suddenly four days after delivering the company's first A320 Airbus to Canada, will be remembered through a commemorative plaque which was installed on aircraft 201 near the Executive Class starboard bulkhead.
The plaque, which was the result of a suggestion by Dorval's Flight Operations group, was designed by Doug Wood, Manager, Communications - Flight Operations and produced by Flight Operations Photomechanical Services and the Technical Operations Machine Shop.
Special thanks go out to all those people, too numerous to mention, who helped make the plaque a reality.
Editor's note: Articles from NL # 1324 & NL # 1435 focused on Fin # 201.
We found an image of the plaque posted on Twitter by Steve Hayman.
Editor's note: Does anyone know if the plaque remained with the aircraft after retirement?