Here is a memory that Jack Morath, Social Director for LHR Pionairs, sent to the members -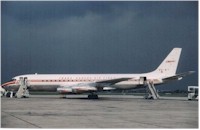 Today's picture shows a Trans-Canada Air Lines DC-8 which was introduced in 1960 (the Vickers Vanguard was introduced in 1961).
I remember when the company brought over the DC-8 to London (LHR) on a trial flight, and we were asked for volunteers to take a ride for an hour to the North of England.
I was working in the Import Cargo area at the time on the North side of the airport, and as it was only a short distance from home, I used to cycle each way.
When I went home at lunchtime I told Mum and Dad about my flight as I didn't know about it before I left in the morning. After flying in a propeller aircraft, the flight was so smooth we couldn't believe it. I remember placing a three penny piece on the seat table and it didn't fall over.
Amazing!