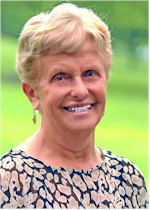 Mae Wilson shares her memories of her career with Nordair -
"I started in administration in In Flight Service.
There I met all our Nordair Flight Attendants and heard their stories of incidents on their flights, good and bad.
It was really interesting working there and getting to know the Flight Attendants. This was great because whenever I flew afterwards, both on business and pleasure, I always knew the crew.
From there I moved up to Finance where I was Administrative Assistant to the V.P. of Finance, Joyce Miracle, a very smart lady!
One of my jobs was to write out the cheques for all the executives for her to sign and I would deliver them on payday, including Roland Lafrancois (CEO). So we were on good terms!
Those days are gone now with direct deposit, which would be much more confidential. I was sworn to secrecy so no one ever knew what I knew about them all. A nice group of individuals, with such a personal interest in the well-being of this small but lucrative airline.
Good memories for me."