Name this airline – answer in 'Terry's Trivia' below.
---
John Meaning sent us this -
I thought you would be interested in this story I found on MSN:
Celebrity Passengers and Caviar at 55,000 Feet: What It Was Like to Fly Concorde in the '70's.
View the Condo Nest Traveler site for the original story.
Very interesting,
John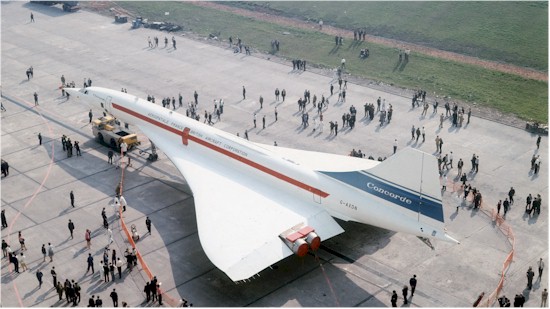 ---
A Canadian airline.
Perimeter Aviation was started in 1960 by William (Bill) J. Wehrle, as Canada's first private Instrument Flight Rating (IFR) school.
In 1964 Perimeter bought their first hangar at the Winnipeg International Airport to start servicing aircraft, and acquired a Beech 18 to begin flying charters.
By 1967, company offerings included a flight school, charter services, and an aircraft maintenance facility.
The year 1976 was important for Perimeter, the company was approached by Transair to purchase their northern interior flight routes along with two Twin Otter aircraft, which resulted in instant growth, forcing the company to expand from 25 employees to 100 almost overnight.
Source: perimeter.ca/about-us/history
---
On June 21, 2021, Transat AT announced the end of a special committee charged with reviewing takeover bids, adding that billionaire investor Pierre Karl Peladeau has withdrawn his offer to purchase control of the tourism provider due to lack of shareholder interest.
Source: Flightglobal.com