Posted by Roy Davidson on the Time Air Historical Society Facebook page -
Three decades before Time Air, another recognizable airline put aviation roots down in Lethbridge. Trans-Canada Air Lines became Air Canada in 1965.
My grandfather, Richard Roy Davidson, getting on the first scheduled, trans-mountain flight from Lethbridge to Vancouver, 1939.
First attempt turned back around Nelson, BC due to icing. Second attempt reached Princeton and turned back.
Third attempt successful at 12-13,000 feet.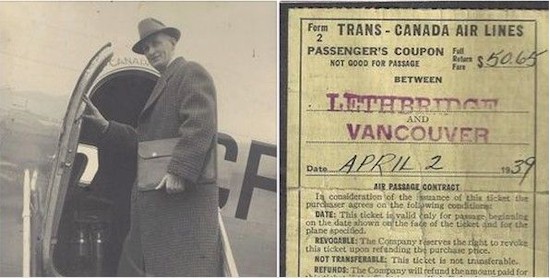 ---

From the "InfoCanadi>n" magazine.
Issue dated November 1987.
---
Vancouver-based flight attendants Gaye Dierks, left, and Nicola Stokes, right, examine the "Aerokit" toy which will be included in Canadian's program in December 1987. Bill Kirk, Manager, Duty Free Sales, looks on.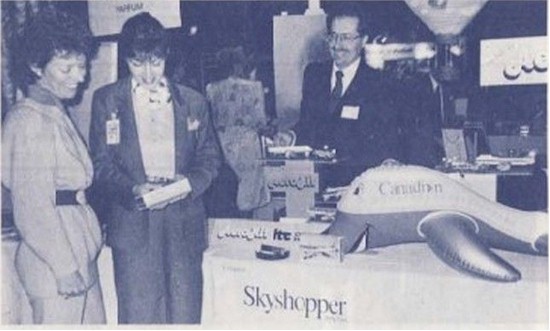 ---
Issue dated February 1988
Here are the participants in the first Canadian Airlines European Region meeting, assembled in the Italian resort of Sardinia.
Back row, from left, Gary Meixner, Director, Marketing, Europe; Rene Devleschoudere, Manager, France, Belgium and Africa; Michael LeBas, Manager, Marketing Planning, Europe; Peter Allchin, General Manager, Schiphol Airport; Geoff Dickson, Route Planner; Fulvio Fusco, Passenger Sales Manager, Central and Southern Italy; Maurizio Piperno, Passenger Sales Manager, Italy; Alfredo da Costa, Manager, Portugal; Bruce McWhirter, Director, Marketing, North American regional routes; Rene Syrenne, General Manager, Sales, Benelux/France; Rob Stundebeek, Regional Manager, Cargo, Europe; Onno Wiersma, Cargo Sales and Service Manager, Benelux; Klaus Lehmann, Cargo Manager, Germany; Tim Darcovich, Manager, U.K./Ireland; Bert Ulrich, Manager, Switzerland.
Front row, from left, Dennis Myttenar, Manager, Sales and Service, Europe; Allan Tremblay, General Manager, Sales, Europe; Martin Gross, Passenger Sales Manager, Germany/Austria; Flemming Timmermann, Manager, Scandinavia; Gideon Thaler, General Sales Agent, Israel; Ed Valka, General Manager, Italy; Fulvio Saudelli, Manager, Cargo, Italy; Herminio Simoes, retired; Peter Garms, Manager, Germany, Austria, German Democratic Republic and Turkey; Dan Cotter, Vice President, Europe, Africa and Middle East; Turid Blom, Sales Manager, Sweden and Finland; Rick Spruyt, Sales Manager, Holland.