The Starship - Boeing 720
In the early 1960's, just before The Beatles arrived in North America, pop music seemed to be dominated by several 'Bobby's' (nothing to do with the London, England police force).
'Bobby' Darin, Goldsboro, Rydell, Vinton, Vee and Curtola (a Canadian) were the equivalent of modern day 'Boy Bands'.
What does this have to do with aviation? Among this list was a singer / TV host named Bobby Sherman who, after his music career, turned out to be quite an enterprising business man.
In 1973, Sherman and his manager purchased a Boeing 720, registered to 'Contemporary Entertainment' and converted it for the private use by music artists while on tour. Possibly the first aircraft ever configured specifically for rock bands. Today many airlines, including Air Canada's 'Jetz' , operate a fleet of specially configured aircraft for lease by entertainers, sports teams etc.
Registration N7201U, delivered to United Airlines in 1959, was the first Boeing 720 ever built. United Airlines wanted a short range B-707 for domestic routes, so Boeing built the modified model to supply their requirement.
The first band to lease the aircraft was Led Zeppelin for the North America leg of their 1973 tour (again in 1975). Followed by Elton John (four tours), Alice Cooper, Bob Dylan and The Band (I saw this show at the Montreal Forum), Deep Purple, The Allman Brothers (two tours), The Rolling Stones and Peter Frampton. Other lessees included John Lennon, Frank Sinatra, Sonny & Cher and Olivia Newton-John. Interesting that neither Jefferson Airplane nor later spinoff Jefferson Starship are among the bands in the list!
It is a shame that this aircraft was not preserved, we can only imagine the parties that it hosted! The Starship had several ownership changes from 1977 through 1979 until it went into storage and was dismantled for parts starting in July 1982.
Additional info and references:
The Starship at Wikipedia at Wikipedia
Full list of Boeing 720 fleet at rzjets.net
Histories on the B-720 at:
aerotime.aero/24240-boeing-720-first-flight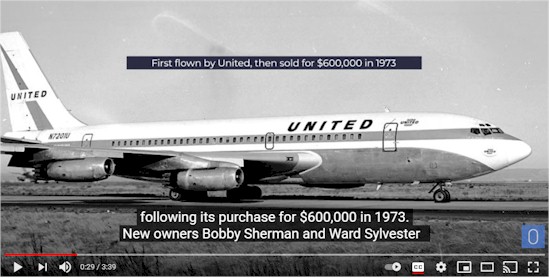 Click the image to view a YouTube Video by Simple Flying.