Posted by Samuel Gabriel Longo on June 12, 2021 on Facebook.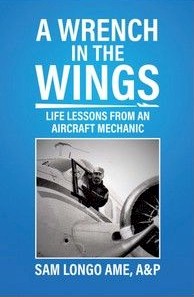 A Wrench in the Wings
(Lots of stories about Nordair from my early career)
Sam Longo, AME A&P
A compilation of essays revealing the personal and career adventures of an Aircraft Maintenance Engineer (AME).
Most of the flying public is acutely aware of the qualified pilots that sit up front, expertly controlling and guiding their passengers safely from point A to B.
Surprisingly, very few of these same folks have any knowledge of the 17,000 Canadian Aircraft Maintenance Engineers (AME's) who are equally responsible for their flying safety. No aircraft can legally leave the ground without their license and signature prior to departure.
It is a rather obscure profession that is rarely highlighted yet remains necessary to all commercial flight. This book brings that career into sharp focus outlining the job with insight, lessons and real-life consequences.
A compilation of 75 columns from Air Maintenance Update magazine, the author brings humanity and humor into the mix to make it an interesting and insightful read.
Available from www.amazon.ca at $18.40 in paperback.