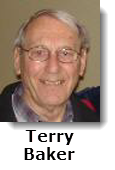 Terry Baker, co-founder of the NetLetter scours the internet for aviation related Trivia and Travel Tips for you, our readers, to peruse.
SWISS offers home baggage collection for Geneva airport.

Swiss International Airlines (SWISS) now offering passengers departing from Geneva airport the option of having their baggage collected at home through the AirPortr service.

By booking online, passengers can have their bags securely collected up to 23 hours prior to departure from their home or hotel and delivered on to the destination airport. The service is available across the Lemanic Region, including Geneva, Nyon, Montreux, and Lausanne, and once the initial test phase is complete it should be extended across the entire country.

SWISS is currently the first airline to offer this service in Switzerland, but it will soon be extended to other airlines of the Lufthansa Group. The AirPortr offering will give passengers the opportunity to travel hands-free to the airport and through its terminals.

Source: AC Daily October 20, 2021

Additional info @ www.futuretravelexperience.com
Ohio's Bureau of Motor Vehicles did a quick 180 after failing its creative license test with a physics-defying image of the Wright Flyer.

The state's motto is 'Birthplace of Aviation' in reference to the Wright brothers' Dayton headquarters for development of what is generally accepted to be the first powered aircraft. The BMV's new design for license plates incorporates a banner-towing version of the aircraft that first took flight in North Carolina in 1903.

Shortly after the unveiling of the new design, Ohioans flooded social media to point out that the rendering of the Wright's ash, spruce and linen world-changing invention was depicted backward and was therefore pushing the banner.

The BMV wasted little time in flipping the image and announced a clean-sheet redesign the same day.
Source: avweb.com
Rolls-Royce Tests SAF on Trent 1000.

Rolls-Royce has successfully completed a test flight of its Trent 1000 engine using 100 percent sustainable aviation fuel (SAF).

The flight, which used the company's 747 flying test bed aircraft, lasted three hours and 54 minutes. According to Rolls-Royce, initial results from the test "confirm there were no engineering issues."

Conducted out of Arizona's Tucson airport, the test was undertaken in partnership with Boeing and World Energy. Rolls-Royce has also carried out ground and air testing of its Trent XWB and Pearl engines using 100 percent SAF. The company says that all of its Trent engines will be compatible with 100 percent SAF by 2023.
Source: avweb.com