Boeing 747-206B(M)(SUD)
I've been trying to remember if I had ever seen one of the 'stretched upper deck' versions of KLM's B-747 fleet. When I was stationed in YYZ, KLM arrived daily alternating between B-747's and DC-10's, depending on the time of year.
I do remember very clearly an evening when we lent a couple of crew oxygen cylinders to KLM and I was sent out to the aircraft (parked on a gate) to deliver them.
I was waiting at threshold for a KLM representative to sign the loan paperwork when a series of tall blond flight attendants streamed by me, I think that I forgot why I was there. At the end of the line was the in-charge flight attendant who apparently had been advised of the loan and approached me to take possession of the cylinders.
Excerpt from Wikipedia:
The combi aircraft model, the 747-200M (originally designated 747-200BC), could carry freight in the rear section of the main deck via a side cargo door. A removable partition on the main deck separated the cargo area at the rear from the passengers at the front. The -200M could carry up to 238 passengers in a three-class configuration with cargo carried on the main deck. The model was also known as the B-747-200 Combi. As on the -100, a stretched upper deck (SUD) modification was later offered. A total of 10 combi 747-200's were operated by KLM. Union de Transports Aériens (UTA) also had two aircraft converted.
It seems that all of the 'SUD" aircraft have been scrapped with one exception, PH-BUK, which is being preserved at the Nationaal Luchtvaart-Themapark Aviodrome at Lelystad Airport in the Netherlands. This aircraft spent its entire career in the KLM fleet, delivered in 1978 and withdrawn from service in 2003.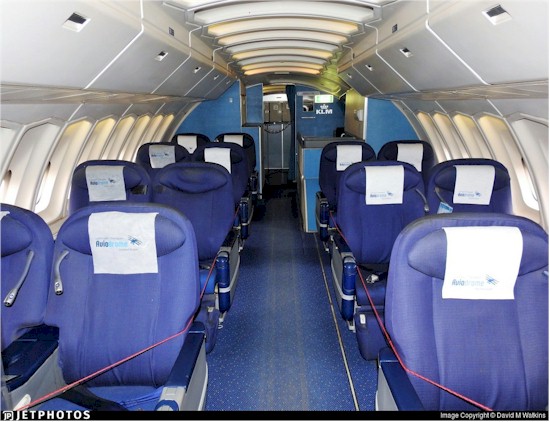 PH-BUK upper deck
Photo courtesy of David Watkins @ www.jetphotos.com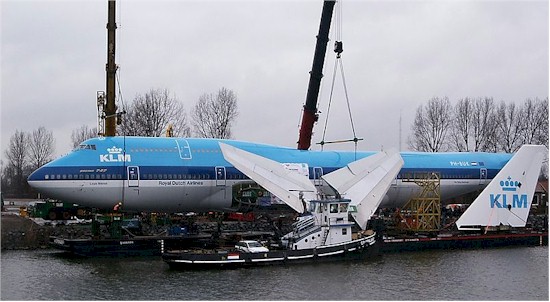 PH-BUK being lifted from a barge in Harderwijk as part
the plane's transport to the Aviodrome museum.
Photo by Christiaan Visse @ commons.wikimedia.org