Billy Bishop Toronto City Airport
It is ranked Canada's ninth busiest airport and the sixth busiest to serve the United States. As a tourist visiting the CN Tower, you are not able to miss (on a clear day) the tiny airport from the observation deck (see issue header).
Billy Bishop Toronto City Airport, YTZ (aka Toronto Island Airport) was completed in 1939 on the islands just southwest of downtown Toronto. As strange as it may seem, it was conceived as the main future airport to service the city with the Malton Airport (now Pearson International, YYZ) built as a backup.
In its 80 years of history, it has served many functions and been the subject of many political controversies (see reference links below), alternating between expansion or closure. In the early 1990's only Air Canada Jazz operated flights from YTZ and only to Ottawa.
The launch of Porter Airlines in 2006 and its vision to grow a niche business around the airport began the latest era of growth. Porter now serves several U.S. destinations as well as Ontario, Quebec and several points in Atlantic Canada with its fleet of 39 Bombardier Q400's. Air Canada Express still serves Montreal-Trudeau and Ottawa airports; very convenient for business travellers.
References:
en.wikipedia.org/wiki/Billy_Bishop_Toronto_City_Airport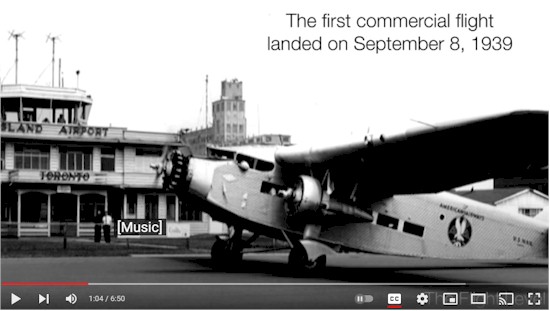 World's Most Scenic Airport Approaches -
Landing at Billy Bishop Toronto City Airport
Posted on YouTube by The Flight Level