Found in 'Horizons' magazine
Issue dated November 2002
The many faces of Marketing.
1 - Chantal Pépin, 2 - Lucie Tiel, 3 - Lina Pomponio, 4 - Claire Bouchard-Nestor, 5 - Kristi Lowe, 6 - Laurie Lincoln, 7 - Marie-Claude Desgagnés, 8 - Doreen Riley, 9 - Louise Lass, 10 - Eric Lauzon, 11 - Anna Kobajlo, 12 - Charles McKee, 13 - David Bloomstone, 14 - Brian Masters, 15 - Lynn Haroon, 16 - Karla Schoenfeld, 17 - Denis Vandal, 18 - Gabriella Lechner, 19 - Marie-France Roy, 20 - Hugette Parent, 21 - Carmine Maurizio, 22 - David Anderson, 23 - Ian Sutherland, 24 - Hana Ryska, 25 - Nivine Morcos, 26 - Kathy De Laurentis, 27 - Pierre Bourbonnière, 28 - Steve Grovesteen.
Missing from the photo:
Lysanne Rich-Hamelin, Richard Kaercher, Josée Leduc and Philippe Pouliot.
---
Issue dated April 2003
The Boeing Stearman
One of most widely recognized biplanes in North America, the Stearman served as the basic trainer for U.S. pilots during the Second World War.
In 1936, Stearman delivered the first model PT13's to the U.S. Army Air Corps. More than 8,500 Stearmans were eventually produced. During the war almost all American pilots undertook basic training on the PT13 or PT17.
After the war, some 2,000 were converted for agricultural spraying. Today, hundreds are in private hands. The Stearman was flown by Canadian Airways and Trans-Canada Air Lines. Typical flying speed was 150 km/h to 170 km/h.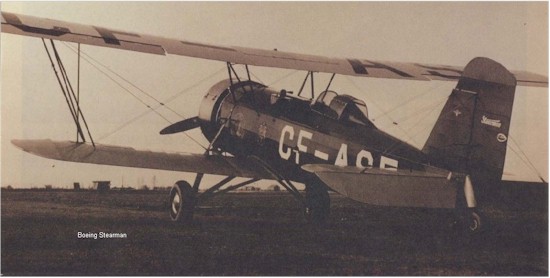 ---
Issue dated July 2003
'Unserviceable' parts salvaged; saves millions.
By Rick Sloboda, Communications Specialist, Technical Services.
A team in Technical Services has found diamonds among the dross by finding a way to repair damaged aircraft parts that even the manufacturers had given up on.
The determined group of employees from Engineering Support and Component Maintenance has gone on to save Air Canada Technical services around $4 million in just one year by coming up with creative solutions to repair damaged units, instead of purchasing expensive new parts.
The story started about a year ago, after a survey found over $3.5 million in unserviceable parts.
"These had been declared scrap because there was no repair for them written up in the manuals," said Project Leader Raymond Latande. "We estimated that developing in-house repairs could potentially salvage half the parts."
"Each team member brings a damaged part to weekly meetings, and the team brainstorms to find the best solution," Raymond explained. "The Team Leader assigns action items to each member to finalize the repair and the justifications for it, and their findings are presented to the group the following week."
Most repairs are then approved within Air Canada Technical Services by a Designated Engineer, acting for Transport Canada.
In this photo, holding $100,000 worth of scrap parts are, left to right: Salvatore Russo, Jérôme Légaré, Ray Rouleau, Richard Krauss, Ernest Bernardi, Michel Zamuner, Jean-François Richard, Calvin Vanden Bos, Aleksandra Jankovic, Steve Marandola and Raimo Kivinen.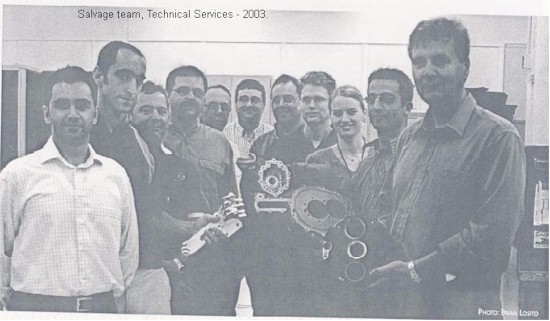 ---
Issue dated September 2003
PMO: A guiding light in project management
Successfully completing a project and delivering expected results takes time, effort and discipline, and it often requires special skills and resources.
One particular department within Air Canada brings professional project management expertise to manage and support critical corporate and branch projects. That's the Program Management Office, better known as the PMO.
This team photo has, front left to right: Kirsi Ulmonen, Sam Pellegrino, Sandra Boyle, Kara Gill, Nancy Rockbrune.
Back row, left to right: Lucy Franco, Line Robinson, Carole Charbonneau, Denis Chalifoux, Vicki Benoit, Lise Lefaive, Pauline Nghiem, Claire Thermidor, Luc Desautels.
Videoconferencing (bottom left): are Lynda Zavitz (left) and Sandra Dick in Vancouver.
---
From Vis-a-Vis
An Air Canada Customer Sales & Service Employee Publication.
Issue dated June 1996
As we go into the new uniform, it's appropriate to publish this picture when our agents donned some vintage outfits to celebrate a piece of Air Canada history.