Honorary Member Award to Jim Bruce.
The Retired Airline Pilots of Canada (RAPCan) recently honoured Jim Bruce at their Montreal May Luncheon.
Jim helped to produce the May PX (Position Report — RAPCan's journal) featuring his Viscount 'At The Fence' painting as a full wrap-around cover.
Source: CAHS Newsletter
Ronald Thebeau took this photo of the happy gang of the Moncton Cargo staff: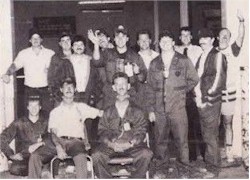 Back row, left to right: Jacques Maillet, Shawn Rafferty, Charlie Richard, Vaughan Dennis, Danny Boudreau, Frank Burns, Ryan Tingman, Serge Leblanc, Robert MacDougall and
Ron Poirier.
Front row, left to right: Jean Leblanc, Danny Blanchard and Vince Cormier.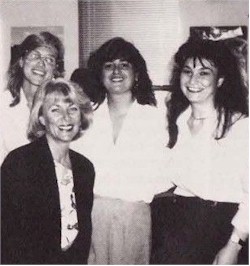 Mary Baxter submitted her photo of the Aeroplan staff.
Left to right: Catherine Moss, Lise Gendron, Rosa Murano and Maria DiMarco.