Found in 'Horizons' magazine
Issue dated July 18, 1988 - Supplement
Lookin' good...by design
This summer Canadians and people around the world will notice a subtle change in the public face of Air Canada. An Air Canada which will still look reassuringly familiar, but which will have that extra touch of class and freshness.
Below, it looks like an exotic insect, but it's actually our Boeing 767-200ER, Fin #613 (C-GDSP), sporting a coat of base paint. Once the job is complete, Boeing will have applied about 500 lbs. of paint.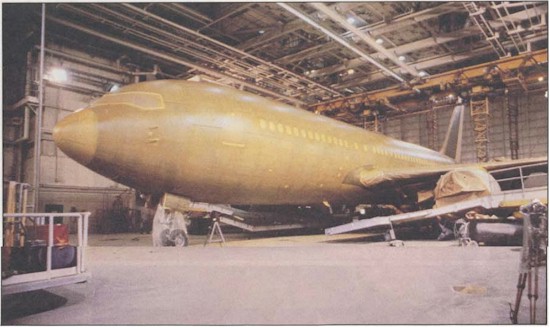 ---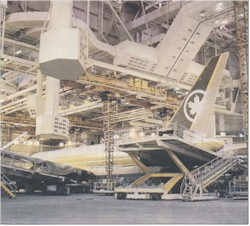 After the white and gray areas were painted, Boeing applied the red and burgundy markings.
---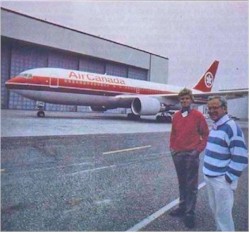 The finished product complete with new signature and new burgundy stripe.
Checking out the new look firsthand are two of the designers, Jim Donaldson, Director, Facilities Design & Chief Architect, left, and Bob Reid, a design consultant.
---

Found in 'Above and Beyond' magazine
Issue dated August 1990
Here are some of our Heathrow-based colleagues who have been rewarded for going the extra mile in delivering topnotch customer service: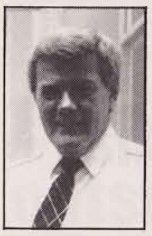 Aircraft Services Supervisor Bill Anderson ensured that several passengers arriving off one of our customer airlines - Thai International - were rushed over to the domestic terminal to catch the last flight to Edinburgh.
---
Station Attendant Henry Harris (left) who along with Kim Ray helped save three dogs, receives a shopping voucher from Tony Coleman, Aircraft Services Manager, while Lead Station Attendant Bill Harding, (right) who went beyond his normal duties to assist a passenger and her children board an aircraft, is congratulated by Peter Baldry, Airport Services Manager, UK and Ireland.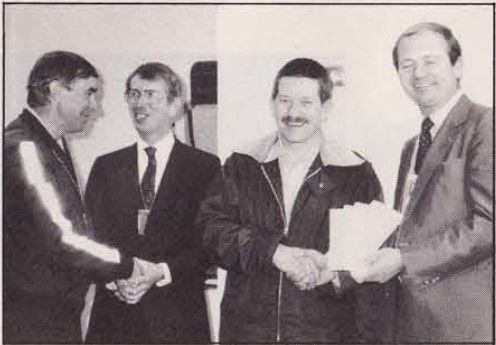 ---
Passenger Agent Jorge Rebocho (left) was rewarded for spending a lot of personal time sorting out the correct documentation for a Portuguese passenger, while fellow Passenger Agent
Caroline Stanley (centre) took two unaccompanied children to her home while their visa problems were being sorted out.
And when an irregular operation at Manchester Airport diverted passengers to Heathrow, Passenger Agent Katie MacDonald (right) made ground transportation arrangements for them. On hand to present them with their awards are lan Thornton, Passenger Service Supervisor (second from left) and Peter Baldry.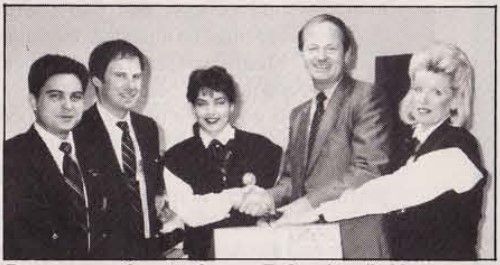 ---
Information Services -
At its 1990 semi-annual meeting, Information Services presented nine outstanding employees with their awards, as part of the branch's 'PROS' program which began in January.
The Information Services 'PROS' winners are (back row, left to right):
Phil Walker, Art Shibuya, Steve Charlton, Hamed Haeri, Wendy Williams and Anne-Lise Simond.
And in front (same order): are: Cliff Pearen, Serge Villeneuve and Joe Richard.