2015 – Nov 21st - Air Canada's first reconfigured Boeing 777-300, Fin 731 took to the skies from Toronto-London Heathrow with its brand new cabins which mirror our Boeing 787 Dreamline. (source The Daily Nov 23/15)
---
Dream Team: Air Canada takes a "pit crew" approach to 787 maintenance.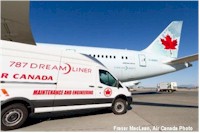 Air Canada maintenance and engineering's Boeing 787 Dreamliner pit crew van is shown n the ramp at Vancouver International Airport. The van has met an aircraft that had arrived from Seoul.
(source: Skies magazine)
---
Found in the "Between Ourselves" magazine issue dated June 1960
Pre-inaugural jet flights sets two speed records to London UK.
One official trans-Atlantic speed record was shattered and another established on the pre-inaugural flight of the company's DC-8 to London UK on May 27th (1960). The distance 3,334 statute miles between Ottawa and London in 5 hours 55.22 minutes. The average speed was 562.9 mph. The previous record was 6 hours 46 minutes established by an English Electric Canberra with average speed of 496.8 mph in June 1955.
An official record for the 3,247.6 statute miles air route between Montreal and London covered the distance in 5 hours 44.42 minute at an average speed of 565.3 mph. The DC-8 was under the command of Captains R.M.Smith and G.B. Lotian.
(Riding the jet stream, a BA B777 reached 761 mph New York to London UK earlier in 2015 - eds
---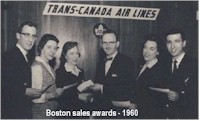 Five Boston employees were presented with cheques at an award night for their individual performances in selling trans-Atlantic space.
The big award winner was Nadine Regan, being congratulated by DSM Gerry J. Churchill.
Others are, from the left: Joseph Regan, Mary Sullivan, Nadine and Churchill, Emily-Ann Lucas and Richard Figali.
---
Back to school - Hostesses, Stewardesses and Stewards on the DC-8 conversion course were on the receiving end of a little service for a change as Attendants brushed up on their techniques for the inaugural of jet service over the Atlantic June 1st 1960.
In this photo Steward Dave Thompson lifts a rib roast from the DC-8 galley mock -up in the training class at Dorval is serving Yvonne Schaefer from Kitchener, Gill Homan from Portsmouth, UK and Steward Shurl Isreal.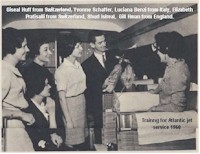 In the second photo the centre of attention is Shurl Isreal as he demonstrates the oxygen bottle and face mask and points out its location in the seat.
His attentive listeners are, from the left: Giseal Huff from Switzerland, Yvonne Schaffer, Luciana Benzi from Italy, Elizabeth Pratisalli from Switzerland and Gill Homan from England
And finally, in this photo Elizabeth de Montfort from Paris is shown how to use the bread tongs by Joyce Lacroix, Sheila Dawson from England and Carolyn Malo from Montreal are waiting for service.
---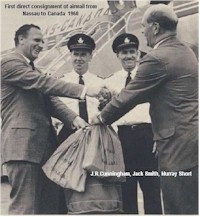 The first direct consignment of airmail from Nassau to Canada is handed over to District Manager Murray Short by Harold Woodman, President of Nassau Air Dispatch, left. The pilots are Captains J. R. Cunningham and Jack Smith. The new service ensures overnight Dominion wide distribution of airmail and makes possible next day delivery following its departure.
Vancouver-Dublin flights will be operated three times weekly by Air Canada's leisure airline, Air Canada rouge, with Boeing 767-300ER aircraft beginning June 10, 2016.
In 1928, Clara Adams purchased the first transatlantic air ticket ever sold to a female passenger, and was on the first flight of the airship Graf Zeppelin from North America to Europe in October, 1928.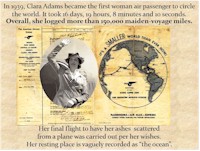 In 1939, Clara Adams became the first woman air passenger to circle the world. It took 16 days, 19 hours, 8 minutes and 10 seconds.
Overall, she logged more than 150,000 maiden-voyage miles. Her final flight to have her ashes scattered from a plane was carried out as per her wishes. Her resting place is vaguely recorded as "the ocean"