Airlander 10 ready to launch
A giant airship which bears a rather unfortunate resemblance to a human bottom, is causing a stir on Twitter as it prepares to make its first proper test flight. The Airlander 10, built by British aerospace firm Hybrid Air Vehicles, is due to make its maiden flight in the spring after tests last year successfully showed it was capable of getting off the ground. Yet despite its impressive size and design, which is hoped to reinvigorate interest in using airships, the vehicle is attracting more attention for its appearance.
In one case a head-on image of the airship has been altered to include a picture of Kim Kardashian, who is famed for her derriere. The 300ft-long (93 metres) Airlander 10 was originally developed as part of a US Army project but was scrapped by military bosses. It is now being converted to provide business and leisure flights in a hangar in Cardington, Bedfordshire.
The vessel was filled with 1.3 million cubic feet of helium - enough to fill 15 Olympic-sized swimming pools - in a test run last October and now the engines and fins are being fitted ahead of next month's flight. The craft has already been tested with a successful hover test, with the hull being filled with helium and floated outside the aircraft hanger in November, but this will be the first test once the engines are successfully attached.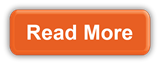 Oh Canada! – 01
The CC-150 Polaris used to transport the Canadian Prime Minister, Governor General and visiting members of the Royal Family certainly has a "colourful" and controversial history. It was originally one of the twelve Airbus 310's delivered to Wardair in 1988 under registration C-GBWD and was a part of Wardair's ambitious plan to compete on scheduled service with Air Canada the newly formed Canadian Airlines International.
When C.A.I.L. later acquired Wardair it was one of five aircraft sold to the Canadian Armed Forces with C.A.I.L. retaining a service contract for these aircraft. Now under registration 15001, it was outfitted for VIP service for then Prime Minister Brian Mulroney with strong opposition from future P.M. Jean Chrètien who would refuse to use this aircraft during his three terms in office. It was then deployed for military transport until returned to VIP service by Paul Martin after he succeeded Mr. Chrètien.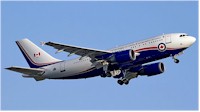 When Stephen Harper became Prime Minister he began to lobby around 2009 (as per CBC report) for the aircraft to be repainted from the dull military grey to a livery more reflective of Canada. This plan actually met with strong opposition from within the government and Department of Defense as an unnecessary use of public funds. However, Mr. Harper persisted and the aircraft was repainted in 2013 in the colours that we see Justin Trudeau descending the air stairs from on the News today.
This colour scheme, coincidentally, resembles the colours of the Conservative Party of Canada. Is there a another paint job in the near future?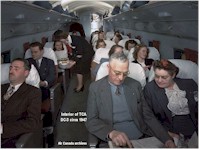 Brian Losito has sent us some photos from the TCA/Air Canada archives.
Here is the interior of a TCA DC-3 circa 1947.
---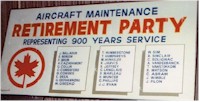 Ken Starnes has sent us a group of photos of the Aircraft Maintenance Retirement Party held at the Royal St. Lawrence Yacht Club in Dorval in 1983.
The following were the 29 retirees: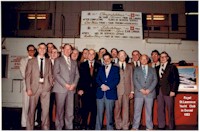 C. Abram, J. Balladuk, E. Benson, F. Brom, A. Cazadamont, G. Collin, C. Comerford, G. Conides, E. Drea, G. Giovannoni, M. Gresco, T. Humberstone, T. Humphreys, W. Hunkeler, R. Jarvis, R. Jeffrey, G. Langlais, D. Marleau, N. Muncer, G. Phillips, J. Pilon, J.J. Ryan, W. Sim, R. Sinclair, C. Solignac, A. Vanderbanc, T. VanStokkom, R. Watson, J. Wimble.
However, the accompanying photo shows only 16 unidentified people.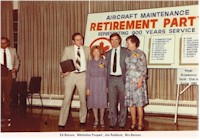 This photo is of Ed Benson ( Retiring, sorry don't know his title ) Mitcheline Poupart, Aircraft Maintenance Secretary, Jim Ruddock Superintendent DC-9 O/Haul and Mrs.Benson.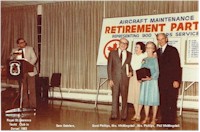 Another photo this time of Sam Gatelaro, Superintendent Boeing 747 and L1011 O/Haul; Gord Phillips, Foreman Sheet Metal Shop (Retiring), Mrs. Whittingstall, Mrs. Phillips and Phil Whittingstall General Superintendent Aircraft Maintenance.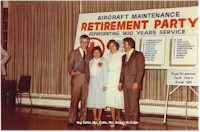 This photo of Guy Collin, Foreman Sheet Metal Shop (Retiring ), Mrs. Collin, Mrs. Doljar, Mr.Doljar, Superintendent DC-8 O/Haul, (Later in his career went to YWG to run the Aircraft maintenance operation)
---
Frank Pedder has sent us a couple of photos. Some of the 14 attendees at the P & S Dorval coffee group who met on February 4, 2016 at the Brasserie Le Manoir, Lachine, QC. We had a total of 14 at this meeting.
In this photo we have from left to right: Real Dufort, Alfred Bauer, Matt McAllister, Eric Pousseur, Bob Gagnon & Julian Ireland.
... and here from the left: Joe Dilollo, Marcel Dionne, Denis Leduc,Gary Porter from Stores; also from Inflight guest non retiree Brian Baillargeon.
---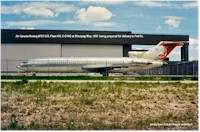 After reading the B-727 article in "Wayne's Wings" in NetLetter nr 1337, Robert Arnold sends us this photo of former Air Canada Boeing 727-233, Fleet 430, C-GYND.
I captured this unique photo while visiting the Air Canada Maintenance Base here in Winnipeg back in May 1990. This aircraft, like several other Air Canada 727's, was being prepared for delivery to Fed-Ex.
Note: Planespotters.net shows that this aircraft continued in service with Fedex until July 2011 and is now preserved at MIA and utilized by the Airport Fire Department...Wayne.
William (Bill) Hill sends this memory -
When I worked as a Station Attendant in YYZ there was one gate where arriving aircraft were required to shut down their engines and be towed into the gate due to safety concerns for employees working at gates opposite. I was on the bridge and when I opened the aircraft door the Captain was there to greet the passengers.
One elderly passenger commented to the Captain. "Boy, I'm sure glad that you didn't run out of gas while we were in the air".
GoFundMe Campaign (Gimli Glider Project)
This just commenced "gofundme" campaign is the latest fundraising effort for The Gimli Glider Project Team and is intended to complete the first phase of setting up the actual museum facility in Gimli, MB with exhibits based on the many Fin 604 parts already obtained from Mojave MHV and on other relevant donated artifacts.
The campaign is being run by Steve Bannister the co-chair of the project team in Gimli, MB. As my previous Netletter updates indicated, this is the project team with whom I have been volunteering my time to help secure (among the many parts already obtained from Mojave MHV and made into display items for phase one), Fin 604's front fuselage / cockpit section for second-phase display at the Gimli Glider Museum's facility, but all contingent on this first phase fund raising being successful.
Tony Walsh
AC Retired – Mgr - Airport Operations Services
Western North America & Pacific rim
604-943-9279
To find out more about this project or to donate please visit:
www.gofundme.com/kksnpbuk
(Note: a possible webpage and more news regarding this project will be in future issues of the NetLetter)