McDonnell Douglas DC 10 Fleet
The McDonnell Douglas DC 10 entered service with CP Air in 1979 to fill the need for medium to long range aircraft. I should mention that I have never had the opportunity to fly on a DC 10.
My research shows that the first two, Fins 901 (pictured) and 902, were briefly leased to Varig airlines shortly after being delivered and then returned to CP Air in 1980. Fins 903 to 907 were delivered directly to CP while 908 was originally delivered to Singapore Airlines in 1979 and then acquired by CP in March 1982.
Three unique aircraft were Fins 334, 336 and 337 as they were leased from United Airlines from 1983 to 1987 and flew in CP livery under U.S. registration. Ken Pickford explains the reason for this in the 'Reader Feedback' section below.
Fin 911 (pictured in header) was originally delivered to Alitalia in 1975 and then sold to Pakistan International Airlines in 1983. It was acquired by CP in 1986 as part of an exchange with PIA in which CP also acquired Fins 909, 910 and 912 with four B747-200's going to PIA. After the transfer to C.A.I.L. Fin 911 was painted in the new livery with signatures on the fuselage and used extensively in the new airline's advertising campaigns.
All 15 of the aircraft were later transferred to C.A.I.L. in 1987 and remained in service, however, none were transferred to Air Canada. Click here for my list of each aircraft's fate after leaving Canada.
Sources: Planespotters.net & CP Air Blogspot
With thanks to Ken
Geoff Hayes sent us this message -
I came across this TCA/AC Timetable dated Feb 1963.
It had a lot of interesting information in it such as "Code Sharing" with BOAC, Route Map and Fares etc. For your consideration should you think it may be of interest to the Pionairs.
Cheers, Geoff.
Norman Hogwood and Janet Walsh were copied on the original e-mail and Norman shares this memory -
The mention of code sharing has resonated with me and I'm now wondering if it is as modern as we think. When I was staying with Janet and Tony Walsh in 2011, I had an interesting "scrap" with Janet over bus services in Kent. Janet worked in Tenterden for the Maidstone & District Bus Services Ltd based in Maidstone, while I was a very keen fan of the smaller East Kent Bus Services based in my home town of Ashford. It was daggers drawn between the two companies except on the hourly run between Maidstone-Ashford-Folkestone and return.
The service number was 10 on both companies which did the run every alternate hour on the hour. One could use one's return ticket on either carrier so therefore the route was operated on a real code share basis. I wonder if any other bus or rail companies had those arrangements all those years ago?
Cheers. Norm
And this from Janet -
Norm, I remember our "Scrap". being a Tenterden Girl rather than from Ashford, over Maidstone & District (Green and Gold colours) and East Kent Bus Services (but was it really called that???? Red and cream????), my memory is a little dim at this point.
However I do also remember very favorably the TCA Timetable shown - I was actually working directly for the Advertising Boss when we changed from TCA to Air Canada so I have very strong fond memories of the Logos etc. Later in my career, before children I spent three years working in the Timetable Production Department with a fellow named Derek Barnett - British and what a character - Tony and I were only speaking of him the other night.
Thanks for the memory... Janet
YVR chapter of ACRA plan their "Picnic in the Park 2016" on July 2nd 2016 at 18:00 hours at the Scotiabank Field in Nat Bailey Stadium.
Click here for full details.
---
LHR chapter of ACRA in combination with Pionairs hold a B-B-Q on July 30th 2016 from 14:00 to 18:00 at the Wraysbury Village Hall.
Click here for full details.
---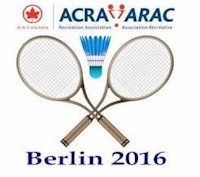 This year the System Badminton Tournament is being held in in Berlin at the TCW Sports Hall from October 13th through 15th 2016.