Dubai World Record Eagle Flight
(Submitted by: Brian Dunn)
An Eagle's flight from the top of the world's tallest building to his handler below. On Saturday, 14th March, 2016 an eagle was fitted with a camera and released from the top of the 2,715 foot Burj Khalifa in Dubai.
The eagle has no idea where the tiny speck of land was that his handler is standing on or what it looked like among all of the other islands and buildings and people. Somehow from that altitude, the eagle actually picks out and recognizes the trainer from all of the other objects, people, etc.
You can see him looking, looking, looking for the trainer, completely invisible to a human eye and the camera, then fold his/her wings and then drops like a bullet straight to that trainer... very cool.
What surprised the experts is not only how efficiently the eagle spots his trainer from that altitude, but how smooth its flight is with no camera shake whatsoever, even when it goes into a power dive at 170 km/hr.
I've linked to the full 5 minute version below. The quality is excellent and the best part is when the eagle spots his handler in the last 30 seconds (5:20) and goes into a full dive.
Transair Inc. - Winnipeg's Hometown Airline
NetLetter reader Rachel Rosenberg sent in the following comment:
"Loved seeing the old Nordair livery in this month's newsletter. However, I would also love to see the Transair logo in amongst the other logos in the CPAir, Canadi>n People Gallery. It was an important part of Canada's North and would like to see it recognized by you fine folks, please and thank you."
Ms. Rosenberg makes an excellent point. Transair certainly played an important role in Canada's aviation history.
Central Northern Airlines began service in 1947 based in Manitoba. CNA acquired 'Arctic Wings' in 1955 and the merged airline became Transair Ltd. In 1956. Lead by former RCAF pilot Ron Turner and operating a variety of aircraft types (including a Bristol 170) Transair established many routes deemed as not profitable by the larger airlines. Acquiring four B737's in 1970 and two B707's in 1964 the airline expanding into charter service to the Caribbean, Europe, Florida and Hawaii.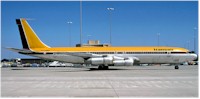 In April 1973 Transair became the first airline in North America to hire a female First Officer, Rosella Bjornson. She also became the first female member of the Canadian Air Line Pilots Association.
Pacific Western Airlines bought the majority of Transair shares in 1977 but due to continued losses it was absorbed into PWA and ceased to exist in December, 1979.
Click the links below for more detailed information on Transair's distinguished history.
Transair Page at Wikipedia
Transair: A Look Back at Winnipeg's Hometown Airline
Historic Fleet at RZJets.net
Rosella Bjornson at Women in Aviation
PWA Employee Alumni Site
Transair (Canada) Facebook Page