Customers travelling on AC115 on December 21, 2016 received one ticket anywhere Air Canada flies for themselves and another to pay forward! (see #FlytheFlag)
Flight AC115 /21Dec was another routine Boeing 787 Dreamliner flight from Toronto to Vancouver until, part way through the flight, the cabin crew began serving sparkling wine to pleasantly surprised customers.
(Source The Daily December 22/16)
---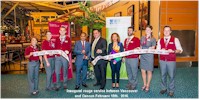 Celebrating the inaugural Rouge service between Vancouver and Cancun February 15th, 2016.
---
Chorus Aviation, the parent company of Canadian regional carrier Jazz Aviation, will establish an aircraft leasing subsidiary, Chorus Aviation Capital.
Halifax-based Chorus has been seeking to diversify its business beyond Jazz's capacity purchase agreement with Air Canada, which provides the bulk of the company's revenue.
(Source ATWonline Dec 21/16).
---
AEROMÉXICO leased ex-Air Canada E190 (024) from Nordic Aviation Capital.

(Source SpeedNews Dec 23/16)
Female Afghan Pilot Seeks Asylum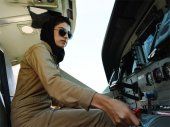 Captain Niloofar Rahmani finished a type course on C-130s with the U.S. Air Force on December 22nd, 2016 and promptly requested to stay in the U.S. She had been training in the U.S. for more than a year.
"I would love to fly for my country—that is what I always wanted to do," Rahmani told The Wall Street Journal in an interview from Little Rock Air Force Base in Arkansas, where she did the Hercules course.
"But I'm scared for my life." She said she'd like to continue flying for the Air Force or become an airline pilot.
(Source AVWeb flash December 25, 2016)