Fitter than ever.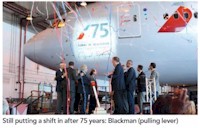 Just making it five birthdays past three score and ten counts for us as a bit of a result, but American Airlines fitter Al Blackman has notched up that many years in one job.
The achievement has seen the New York JFK-based technician honoured by the Guinness World Records for the longest career as an airline mechanic, and by his employer, which named a Boeing 777-200 in his honour. Blackman, who began his service with the airline as a 16 year old apprentice in the sheet metal shop in 1942, has worked on almost every aircraft American has flown since the flying boats of the 1940s. The 91-year old turns up for work most days at 03:00, two hours before his shift starts.
(Source: Flight International August 2017)
---
The following was in a late edition of Flight International magazine – Staying fitter.
Regarding the piece detailing Al Blackman's seventy-five years as a fitter: technically his job may have always been the same and he never had to fill out a second application, but it was not always with American Airlines. The carrier never had flying boats, so one presumes that his first employer was American Export Airlines, about the time it started transatlantic service with the Vought-Sikorsky VS-44 in June 1942.
AEA became American Overseas Airlines (AOA) in November 1945, and a month later was merged into American Airlines. AOA continued to fly the Atlantic as such until American sold the operation to Pan American in September 1950. Evidently Mr. Blackman remained with American.
John Davis, Wichita. Kansas, USA
Editor's reply: Thanks to Mr Davis for pointing this out. Al Blackman did indeed start his career with American Export Airlines (part of the American Export Lines shipping company). The airline was absorbed into American Airlines at the end of the war, so Mr Blackman's service has been continuous.
(Source: Flight International September 2017)