Tim Burt would like some help here -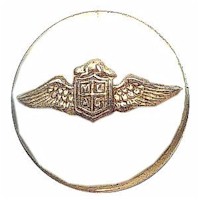 Hi Folks, picked up what may be an early aviation button. It is a winged shield with ML/AC on it.
Could this be the Montreal Light Aircraft Club?
---
Brian Flanagan sends us this report
Scottish Pionairs Christmas lunch.
On Thursday, December 7, 2018 Pionairs and Partners in Scotland held their Christmas lunch at the Ellisland House Hotel in Ayr. The group of 23 assembled at 12:00 for 12:30.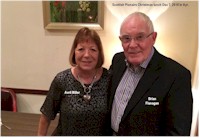 The committee of Avril Miller, retired Senior Passenger Agent at Prestwick, and Brian Flanagan, retired Duty Manager London Heathrow, were on parade to show everyone to their seats.
Avril Miller welcomed Elisa and Mike Judkins our Pionairs UK Director and the other guests. Avril gave us a very humorous story of a recent bus journey from Ayr to Glasgow which gave us a good laugh.
The hotel once again excelled themselves with a three course al a carte lunch and coffee which was superb. This was our second visit to the hotel which we used for our reunion last year. The winner of the raffle was John Gibson retired Aircraft Technician Prestwick and Glasgow.
The afternoon was over all too quickly at 1700 with everyone looking forward to the next one.
I would like to say that it was a pleasure to work with Avril Miller and to thank her for tireless work to make the lunch such a success
Our photo is of Avril Miller and Brian Flanagan.