Boeing CC-137 - Canadian Armed Forces
I wrote about the fleet of RCAF/VIP Airbus CC -150 Polaris current deployed (and due for replacement) in NetLetter #1338 from March 2016.
They were preceded by a fleet of five Boeing 707-347C's modified for military service. The CC-137 was a transport and tanker aircraft that served with Canadian Forces from 1970 to 1997.
All five of the aircraft, registrations 13701 to 13705, were originally ordered by Western Airlines of California and then purchased by Canada after that sale fell through.
The first four were delivered on February 24, 1970 and the fifth was delivered on March 24, 1971.
The first of the fleet, 13701, served with several cargo operators until it was retired around 2000. The other four ended up with the Northrop Grumman E-8 Joint STARS program either for spare parts or conversion to E-8C standard for the United States Air Force and are still in service today.
For a full list and known details of the lifecycles of these aircraft see:
www.rwrwalker.ca/CF_CC_137.html
Article source:
en.wikipedia.org/wiki/Boeing_CC-137
Additional info from Ken Pickford:
Interestingly, another former Boeing 707 that began life in Canada is also still flying as an E-8C with the USAF.
It was Wardair's 2nd (of two) B-707's, CF-ZYP (named 'W.R. Wop May') delivered March 1969. It was sold to long-defunct Austrian charter carrier, Montana Austria, in 1978 and was later seized by U.S. authorities in Houston, Texas while carrying an illegal arms shipment.
It was transferred to the USAF and after several years as part of the VIP fleet it was converted to an E-8C. Interestingly, that aircraft had a link to another Canadian carrier. It was originally ordered by Quebecair but cancelled before delivery.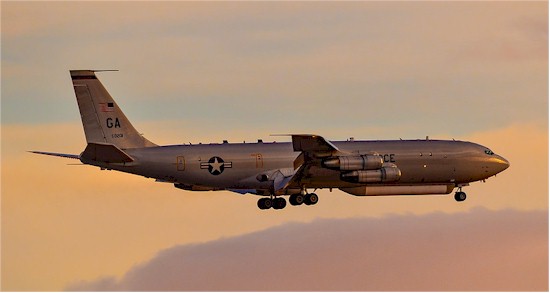 Former RCAF registration 13704, USAF 97-0201
by Tomás Del Coro on February 7, 2017
Posted at www.flickr.com.
---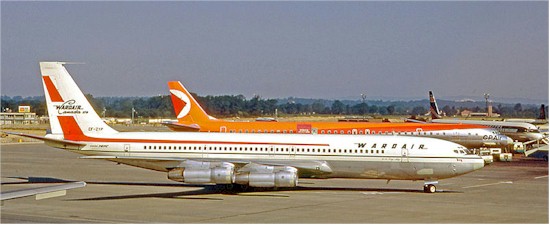 Wardair Canada Boeing 707 CF-ZYP
(now USAF 00-2000)
at London Gatwick in 1970
(with CP Air DC-8-63)
Posted at commons.wikimedia.org
Regarding our article on Great Lakes Airlines in NetLetter #1487, subscriber Doug Keller brought to our attention a book entitled 'A History of Airlines in Canada' written by Dr. John Blatherwick.
Doug sent us an excerpt from the book relating to Great Lakes Airlines. However, due to copyright, we are not able to publish an excerpt without express permission. We were able to contact Dr. Blatherwick via email and he, very graciously, has given us his permission.
We wish to thank Dr. Blatherwick and his publisher, The United Press, for allowing us to print and link to the following excerpt. Also, thanks to Doug Keller for bringing it to our attention.
Click the book cover below if you may be interested in purchasing a copy.
Editors' Note: We would be remiss not to mention that being an author is only one part of Dr. Blatherwick's distinguished career. He served in the Canadian Forces reserves for 39 years, retiring in 2000 with the rank of Commander and the position of Senior Naval Reserve Medical Advisor. He also served as the Medical Health Officer or Chief Medical Health Officer in Vancouver, British Columbia from 1984 to 2007.
He became a member of the Order of Canada on May 3, 1995.
---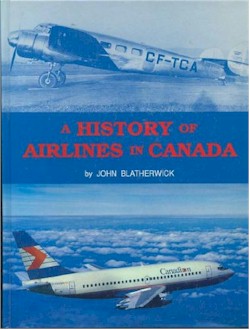 Great Lakes Airlines was formed in January 1961 to provide executive transport for the Holmes Blunt Company of Sarnia. Most of the traffic was to Toronto and back utilizing light twin engine aircraft.
DC-3's were purchased in 1967 to supplement the company's Cessna 310 and tri-gear Beech 18 as it began a scheduled service between Sarnia and Toronto.
Two Convair 440 aircraft were bought in 1969 from Swissair. Called the Metropolitan, the piston twin engine Convair 440 carried forty-four passengers and bore a colour scheme with a broad red cheat line running through the windows of the white aircraft.
The upper three quarters of the tail was red and displayed a white map of the Great Lakes within a white circle. Once the Convairs arrived, the Beech 18 was sold to Air Windsor and the two DC-3's sold to Pem-Air of Pembroke.
When London, Ontario, was added to the Sarnia to Toronto route in 1973, four more Convair 440s were purchased from Linjeflyg of Sweden. These white aircraft had a broad blue cheat line above a thin white cheat line and a thin dark blue cheat line below both and had an all-white tail. One of a variety of symbols was found on the tail, including a map of the Great Lakes in blue but with no circle, a stylized 'GLA' or no symbol at all.
With the additional aircraft, Peterborough, Ottawa and Kitchener were added to flights from Toronto.