Jack Stephens has sent us this information -

Inspired by a love of travel, Linda Meckling became a flight attendant with Air Canada in 1966. After four weeks of training in Montreal, she was flying coast to coast and, later, overseas. Linda embraced the glamourous lifestyle of a 1960s globetrotter in the era of company-mandated beauty products and girdles. Linda saw many changes in air travel through her 37-year career. She shared her impressions of a flight attendant's life with the Royal Western Canada Aviation Museum in March 2014. Since her retirement, Linda Meckling has returned to live in her home town, Winnipeg.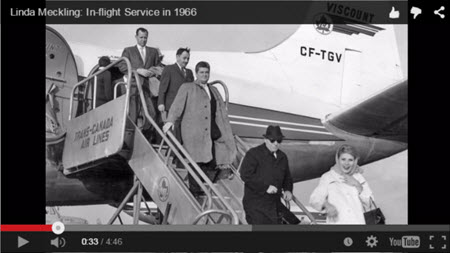 This museum is the home of CF-THS, and its hangar was the heart of the maintenance and overhaul of Air Canada's fleet of Viscounts. See: www.wcam.mb.ca/5097/linda-meckling-in-flight-service-in-1966 for the complete article.