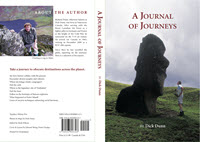 Richard Dunn has sent us information regarding his recent book titled "A Journal of Journeys". Richard Dunn, otherwise known as Dick Dunn, was born in Vancouver, Canada. After serving with the Royal Canadian Air Force as a fighter pilot in Germany and France at the height of the Cold War, he instructed on the T-33 jet trainer. He joined Air Canada in 1965, retiring in December 2000 as a B747-400 Captain. Since then he has travelled the globe, reporting on his journeys. Here is a selection of his reports.

---
1979 - July - Order for 12 B767-200 aircraft placed with Boeing.

The first female passenger agent to receive a ten year service pin was was Grace Humphreys of Winnipeg in 1951.
---
Extracted from the "Horizons" magazine -

issue July 1979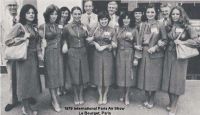 For the 1979 Paris International Air Show at Le Bourget, near Paris, the company representatives were wearing uniforms designed especially for the show. Here we have the company hostesses.

From the left: Anna Leroux and Tami Trites, Dorval; Monique Paradis and Doreen Riley. Montreal; Adele Gosbee, Ottawa; Suzanne Guerard-Langlois, Mona Agia and Marliyn Huot, Montreal. The technical representatives behind the hostesses are from the left; Tom Martin; Purchasing & Facilities, George Plourde; Flight Operations, Ed O"Keeffe; Maintenance Contracts, and Del Bourgeois, Maintenance Marketing. Missing from the photo are Barry Baker, Jack Maloney and Rick St. Maurice of Computer & Systems Services. (Note that there are nine ladies pictured but only 8 names - eds)
---
Extracted from the "Between Ourselves" magazine -
Issue dated August 1951
Our photo is of the Stewardess class of graduates held in Montreal.

In this photo we have the signing of a wage agreement between TCA and CALPA in 1951.

In 1951, Grace Humphreys, of Winnipeg, was the first female passenger agent to receive a 10 year service pin. In the photo on the left is J.T.Moore, Winnipeg DT & SM, on the right is J.R.Danaher, Office Manager.