1991
Jan 31st - Los Angeles and San Francisco City Ticket Office closed.

Feb 15th - Amsterdam sales office closed due to low sales volumes.
Gleaned from the "Info Canadi>n" magazine Issue dated December 1990.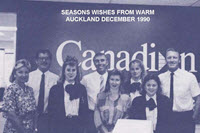 In December 1990, Canadian employees in Auckland, Canadian's southern most destination, wished everyone "up North" a happy holiday season.
(Unfortunately, the photo was not accompanied with names - would anyone make any suggestions? - eds)




During December 1990, it was announced that PWA Corporation is consolidating its regional airline holdings into a new subsidiary management company called Canadian Regional Airlines Ltd" which will comprise Time Air, Calm Air, Ontario Express, and Air Atlantic. Murray Sigler, PWA Corporation's executive vice president, will act as chief executive officer of Canadian Regional Airlines.
Canadian Softball
Getting a ball team organized, there were two Canadian Airlines softball tournaments planned for 1991. That year's events were held in Tampa April 15-18 and Honolulu Nov. 11-15. Individuals or teams interested in participating had contacted Marko Generalovic or Frank Caira at
YYZAP. The 1990 Honolulu tournament brought together 400 players from 30 teams representing 12 airlines including our Toronto Sluggers.

From left, rear, Frank Caira, Joe Massaro, Keith Lawes, Marko Generalovic, Terry Wheeler,front, Lloyd Nolan, Joyce Finlay, Jane Abel, Karen Thorvaloson, Trish Mennie, and Ron Dulko.


---

The triumphant T3 team!
The T3 project has been a labor of love for the project members involved in bringing Canadian's dream to reality over the past three years. Project team members included, front from left, Dave Honnet, construction manager; Barbara Stewart, manager, customer service; Cathy Wildgoose, manager, communication and promotion; Greg Devitt, manager, baggage systems; Clarence Critch, manager, operations; and back from left, Bob McCuaig, project manager; Bob Petryk, Terminal 3 Project; Deborah Acheson, facilities planning manager. Missing from the photo were Paul Ritchi manager, airside operations; and Murray Tremblay, customer service manager.