Jim Griffith sent this along -

Robert Milton invests in AirAsia X
Mr Milton is currently the Chairman and CEO of ACE Aviation holdings and was previously the Chairman and CEO of Air Canada. ACE is an air transportation investment company that holds a 75% stake in Air Canada, as well as a minority interest in Aeroplan, a loyalty program company, and Jazz Air LP, a regional airline with 135 aircraft.

Mr Milton is one of the world's most experienced aviation executives, best known for his successful restructuring of Air Canada, which he chronicled in his book, "Straight From The Top". He is a past Chair of the International Air Transport Association's Board of Governors. Mr. Milton was a 1998 recipient of the prestigious "Top 40 under 40" award recognizing 40 Canadians who have achieved significant levels of success in leadership and innovation before age 40. He graduated in 1983 from Georgia Institute of Technology with a Bachelor of Science Degree in Industrial Management and spent part of his childhood in South East Asia.

"My involvement with AirAsia X has provided me with the exciting opportunity to participate in the newest and most promising airline business model today," said Mr. Milton. "I believe AirAsia X has great potential as the first truly low-cost long haul carrier in a region which will see significant future traffic growth - an area of the world to which I also happen to have strong personal ties" he added. (source www.asiatraveltips.com)
---
Early days of Malton airport aka Toronto Pearson International airport.
Malton's first official landing was on August 29, 1938, with an American Airlines DC-3 arriving from Chicago, via Detroit and Buffalo. A Trans-Canada Air Lines (TCA) Lockheed 14 Super Electra landed two days later, on August 31, 1938.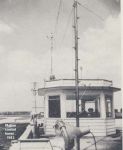 L/H Photo - The original terminal was an old farm house, which was soon replaced with Malton Airport's first purpose-built terminal. (Source airwaysnews) Here is the control tower in 1943.
R/H Photo - This is the brick farmhouse that saw its acres striped with concrete, and its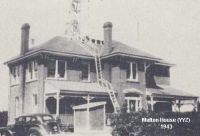 scare-crows helpless before the new mechanical birds, it became, in the beginning, the airport's administrative headquarters. Today (in 1943) it stands a long stone's throw from its modern successor, semi-deserted, but with plans afoot to turn it into a centre for the preparation of meals for T.C.A.
This is a photo from the 1950s – Four TCA Vickers Viscounts and a TCA Lockheed Super Constellation – with spectators on the terminal roof. Photo: Air Canada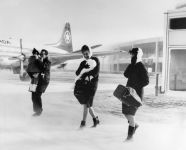 A cold winter day, before Jetways. That's a Vickers Viscount in the background.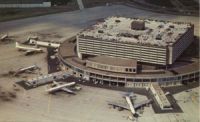 The Aeroquay with TCA Vickers Vanguards & Viscounts, and a BOAC 707. Photo: GTAA.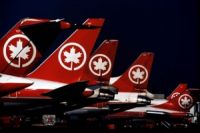 An undated photo of Air Canada tails.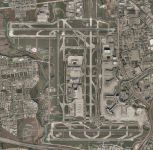 Modern day aerial view of YYZ.