We received this enquiry and photo from David Postle looking for Gordon Rubenok -
I am hoping you might be able to help with some information about one of your flying colleagues by the name of Gordon Rubenok. I believe he is sadly no longer with us, but I would be grateful if you were able to tell me anything about him. My reason for asking is that Gordon Rubenok came over to Britain during the Second World War and flew from Ballykelly in Ireland for 59 Squadron. My father was his navigator from December 1944 to the end of the war, and he spoke very highly of Mr Rubenok as a fellow crew member. My father often asked whether we could find out what he did after the war after the Squadron was broken up.
I do know that he went back to Canada and flew for Trans-Canada Air Lines, and I believe later Air Canada.
I do not know when he retired, but it was probably in the 1970s/80s. I do have a photograph of him with his crew in Ballykelly, and the operation records of his flights, and I would just appreciate finding out a little more about him, and even contacting his family if there are any people who would be willing to make contact.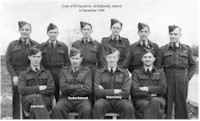 I am attaching a photograph of Gordon Rubenok and his crew at Ballykelly in 1945. My father, John Postle, is seated on the left. Next to him is Gordon Rubenok, and the third on the right seated is Flight Lieutenant Robert Irving who was another navigator and sometimes Captain of the plane. Both Gordon Rubenok and my father were Flying Officers at that time. I do not know the names of any of the others. There were other Canadians flying at the same time. They flew Consolidated Liberators on Atlantic patrols.
Many thanks for your help.
Best Wishes, David Postle
Email: This email address is being protected from spambots. You need JavaScript enabled to view it.