Robert Arnold sends in these comments -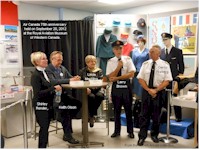 After reading the interesting article by Jack Stephens found in NetLetter nr 1315 about Linda Meckling, I thought I would follow up with a few photos I took at the Air Canada 75th Anniversary which was held on September 20, 2012 at the Western Canada Aviation Museum (now the "Royal Aviation Museum of Western Canada").
In the photo you see from left to right, Shirley Render, Executive Director of the museum, Keith Olson, former Viscount pilot for Air Canada, Linda Meckling, retired Viscount Flight Attendant who also worked for the airline. Next you see Air Canada Captain, Larry Brown along with Air Canada Captain Gerry Norberg. A great time was had by all.

Regards,
Robert Arnold
---
Michelle Wall sent us this url of numerous postcards of views in BC. We have captured these three of aircraft, but with no dates available..
There are a lot of great photos under "Travel Old B.C." where these photos originated. You can follow this link if you would like to view all 407 photos.