---
Spotted in the "Between Ourselves" magazine
Issue dated October 1959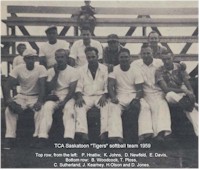 The TCA Tigers, Saskatoon's entry in the local RCAF softball league, are shown here following a successful season. The team, made up of Sales and Operations personnel, traveled to Regina to meet the TCA Aces and came home with another win to their credit. Top row, from the left: P. Hnatiw, K. Johns, D. Newfeld, E. Davis, Bottom row: B. Woodcock, T. Ploss, C. Sutherland, J. Kearney, H. Olson and D. Jones.
---
Found in the "Horizons" magazine
Issue dated September 1979.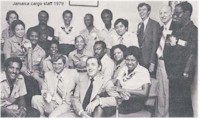 New cargo facilities were opened in Jamaica during 1979.
Shown in the photo are from the left, front row: Reservations Supervisor Carlysle Hudson, Jack Angus and Guy Courtois, Project Leader, Montreal.
Centre: S. Ross. Passenger Agent; Airport Manager W. Panton, Passenger Agents A. Ferguson and N. Henry; Cargo Agent W. Chambers; and Secretaries P. Burgher and L. Jones.
Back row: CTO Supervisor D. Gruchy; Shipper L. Mignott; Sales Representative F. Bartley; Shipper V. Simpson; Office Messenger L. White; Passenger Agent P. James; Toronto Cargo Sales Representative D. Denton; Cargo Manager K. Shaw, New York and Customer Service Supervisor J. Miles, Montego Bay.
---
Everybody loves a parade and Halifax employees are no exception. Under the direction of the Passenger Sales & Service division, staff members from all departments pitched in to build the float while others rode on it in the Halifax Natal Day parade, a traditional event in the port city.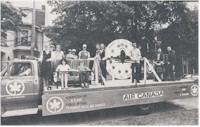 Featuring the theme, ''Bringing us all Together", the display depicting various aspects of the company's operations was trucked along the route by driver Arnold Burris. Halifax Mechanic.
Playing passengers in the photo are Nancy Banks, daughter of Ron Banks, Maintenance and Glen Wadden, son of Murray Wadden, Personnel & Administration Manager. Others on the float are, from the left: Michelle Gaulin, Flight Attendant; Bertha Lemke, Clerk-Steno; Art MacDonald, A/Commissary Manager; Mary Moriarty and Craig Corbett, Passenger Agents; Uli Toggweiler and Linda Corcoran, Flight Attendants; David Pettipas. Station Attendant; Peter Baker, Passenger Agent and Mechanics Bill Boutilier and Bob Lee.
---
In 1979 Toronto Passenger Agent Christine Fisher and Station attendantsDonald Johnston of Thunder Bay and George Clark of London Ontario celebrated their 25th anniversaries with the company.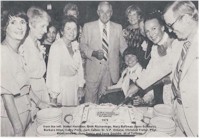 The trio topped the seniority list at the recent Quarter Century Dinner in Toronto and host John McMurtry; V.P. Central Region, welcomed them along with his 'junior' guests - the 27 employees in the region who had most recently joined the ranks of' the '25-year Club'. The invitations also included 14 employees who had achieved 30-year service mile-stones; indeed, the 44 guests around the dinner table were celebrating a grand total of 1,200 work-years with the company! Representatives from each of the eight stations in the Central Region were in Toronto for the gala evening which has become an annual affair.
John McMurtry, V.P. Central Region, cut the anniversary cake for his guests at the Quarter Century dinner in Toronto. Vying for the first slice are, from the left: Mabel Hamilton, Beth Richardson, Mary Barbeau (from Sudbury), Barbara Allen, Cathy Peck, Jack Callen, Sr. V.P. Ontario, Christine Fisher, Phyl Bent (seated), Joan Dancy and Irene Gouldie all of Toronto.
---
Allan Gray has sent us this photo -
July 1992, Maple Leaf Lounge YVR - with Claude Taylor
Met the gentleman here, always time for a photo with his AC family.
L to R Dixie Blackwood, Lucy McDonough, Claude Taylor, Jannet Tricarico, Allan Gray and Barbara Avitan.