The actual flying of bombers across the North Atlantic Ocean only began on Sunday, Nov. 10th, 1940 with a Canadian national railroad company … the Canadian Pacific Air Service which came into being earlier, in September, 1940. It came to be known unofficially as the CPASD - or Canadian Pacific Air Services Department, a branch of the Canadian Pacific Railway – CPR
Jack Stephens has sent us this information –


Some are not aware of the early presence of CPAL in eastern Canada. Took a while to identify the larger aircraft. It is rare, as only 5 were built according to the Canadian Aviation and Space Museum in Ottawa. The last number is hidden on the registration, but appears to be CF-BJU. It is a Fleet 50K Freighter and is in storage there.

Interesting history on their site. Three Fairchild's at anchor, and CF-BVK at the dock.
Alan Evans, in South Africa, has sent us this link.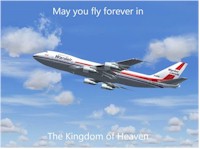 Wardair - Some memories of great friends. Tribute to those gone. Josie my deceased wife is there. Thought it might be of interest.
Alan.
Extracted from "Info Canadi>n" magazine issue dated November 1990 - Striking terror in the heart of Texas.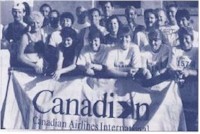 Twenty three Canadian Airlines employees traveled to Fort Worth Texas in October for the 18th Annual World Airline Road Race, including the 18 hardy road racers in this photo who raced in the 38c weather. The Canadi>n team, made up of jogging enthusiasts from across the system, finished among the 40 airline teams in the four-day event, the travel industry's largest sporting event.
(There are no identifications on the photo, but we did locate the results of the races and these are the names we found - eds)
10 K results 967 runners.
45 Cliff Russell, 80 Ron Steanshurn, 109 William King, 126 Jeffrey Platt, 287 Paul Dunstan, 305 Werner Mucck, 515 Jay De Kaun(?), 537 Joseph Donnald, 928 Sharon Caron.
5 K results 1168 runners.
85 Cliff Russell, 117 William King, 134 Jeffrey Platt, 279 Michael Cairns, 572 Leigha Fox, 782 Jay Dickson, 940 Helen Smith, 942 Debbie Iverson, 950 Vivian McCarthy, 972 Carman Danniel, 1047 Ad Krekiuwetz, 1062 Colleen Leiser, 1123 Patricia Weatherby, 1165 Brent Sutton and 1166 Paul Dunstan.