Frontier Airlines made history when they hired Emily Howell Warner on January 29, 1973. She was the first woman airline pilot hired by a U.S. commercial airline.
---
On February 11, 1958, Ruth Carol Taylor was hired by Mohawk Airlines, becoming the first African-American flight attendant in the United States.
---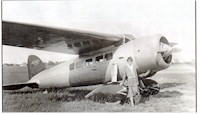 On May 20th 1932, Amelia Earhart became only the second person to fly across the Atlantic from west to east, and the first women to do so. In her Vega aircraft she was heading for Paris from Newfoundland, but her instruments malfunctioned and she ended up in a farmers field in Ireland.