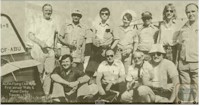 Roger Slauenwhlte refers to one of the four photos we found on the Ramp Rats and published in NetLetter nr 1321 without any identifications.
Roger told us the issue of the "Horizons" magazine issued 1975 had this photo. We located it in in NetLetter nr 1201 April 2012. The participants, looking unruffled by the ACRA Flying Club fly-in at Toronto at the first annual Rally & Poker Derby are:
Standing from the left: Captain P. L. Windh, Jerry Milek, Reed Aiken, Ron Paterson, George Warriner, Jim Beloshesky and Don Morrison. Front row, from the left: Lars Jensen, Roger Slauenwhlte, Bob Rathwell and Don Washington.
---
Ken Pickford sends these comments -
Re the Robert Arnold photos of Viscount #612, CF-TGT, at Winnipeg in NetLetter issue #1318, he mentions that "the fleet number is still located on the radome".
Actually, that wasn't a radome then as most TCA Viscounts didn't have weather radar when delivered. You'll note the entire nose structure on that aircraft is metal. If memory correct, the last dozen or so Viscounts delivered after some point in 1958 and into 1959 had weather radar installed at the factory. All the earlier Viscounts were then modified to add it, including the fibreglass/composite radome which slightly changed the nose contour of the Viscounts (it was a little more pointed than the original all-metal structure). Someone more familiar with TCA Viscount operations will know more about the timing of those modifications than me.
We, at the NetLetter, passed Ken's comments on to Robert Arnold who responded -
After having a closer look, Ken is absolutely right. Thank you for pointing this out. I note he mentions July 1958 when they started installing the radomes.This is a big help as up to now, I have not had much luck on nailing down a time frame when TCA started the installation and when they completed the changeover. Some clarity would certainly help in this area of my research. Way to go Ken for having such a keen eye.