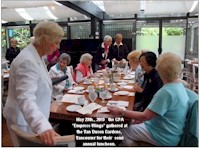 Cora Thomson sends in these two photos
Here are the pictures I promised which were taken on May 25th., 2015, when the "Empress Wings" gathered at the Van Dusen Gardens in Vancouver for our semi annual luncheon.
The "Empress Wings" is a group of former CPA stewardesses, most of us having to take compulsory retirement when we were married. Our group have done a lot of charity work for "Families for Children".
We had fashion shows and various fund raisers and this is still going on by some of the ex CPA stewardesses that are still flying with Air Canada. We meet twice a year for a luncheon in Vancouver and often there are 25 of us attending. The group was started in 1960!!!
The names on this picture are from left and clockwise: Cora (Bethel) Thomson, Alison (McKay) Smyth, Nancy (O'Brian) Chambers, Roberta Stitt, Gerry (Meyers) Adams, Shirley (White) Laidlaw, Suzanne Green, Dorothy (Meyer) Randall, Katie Hill, and Evelyn (Donnelly) Curran.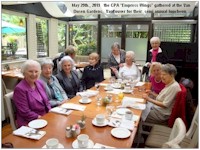 The second picture: Joan (Scott) Van Stone, Violet (Hubner) May, Barbara Barnes, Dorothy Randall, Yvonne (McGillvary) Wiley, Lorraine (Nichiguchi) Elliott between the Olsen twins.
(I am recalling the names as best I am able and possibly mispelled a couple).
Cora Thomson