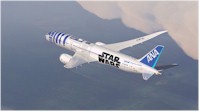 ANA (All Nippon Airways) announced that they are very excited that at YVR we are to be the first destination for the special R2-D2 ANA JET.
This special Star Wars-themed Boeing 787-9 Dreamliner will first fly at a fan appreciation event in Japan on the 17th before taking off overseas to Vancouver for its first international flight on October 18, 2015. The extremely popular film franchise will be releasing the latest film in the series just a couple of months later so we are sure that plane spotters and Star Wars fans alike will want to catch a glimpse or take a ride on this rare bird.
After visiting YVR the plane will continue on to other international destinations such as San Jose, Seattle, Sydney, Munich and Paris leading up to the release of Star Wars: Episode VII - The Force Awakens on December 18, 2015.