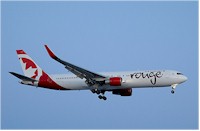 Leased third ex-Air France A321 (3401) with CFM56s from AerCap.
Is considering adding 10 A321s to ROUGE fleet (from secondary market) instead of five originally planned.
Air Canada rouge will launch the following routes in 2016.
Toronto-Prague May 29th until September 29th. 3 x weekly.
Montreal-Casablanca, the first ever service to Africa. June 3rd until October 17th 4 x weekly.
Toronto-Budapest June 10th until October 15th. 3 x weekly.
Toronto-Glasgow June 13th until September 25th. 3 x weekly.
AIR CANADA says it has bought back 3.19m shares since May 29 at total cost of $36.7m
JAZZ finalized new contract with its flight attendants, represented by the Canadian Flight Attendant Union (CFAU)
In an effort to further increase its share of US-originating connecting traffic, Air Canada will offer free one-week stopovers in Toronto to US customers bound for Europe or Asia. Air Canada developed the program with Tourism Toronto, and it will be available from more than 50 U.S. cities. Customers can stop in Toronto on either side of their journey, and they can fly long-haul on Air Canada or Air Canada rouge.
This plays into Air Canada's strategy of attracting more US customers.